Celebrating May 17th
For more than 100 years, the Royal Family has greeted the Constitution Day children's parade in Oslo from the balcony of the Royal Palace. 
16.05.2016
The very first celebration of May 17th is thought to have taken place in Trondheim in 1815, one year after the Constitution was drafted and adopted by the National Assembly at Eidsvoll. In 1836 the Storting celebrated May 17th for the first time and this is considered to be the date on which 17 May officially became Constitution Day in Norway.
Revolutionary activities
King Carl Johan, who ruled over Norway and Sweden from 1818 to 1844, regarded the May 17th celebrations – and Norway's independent Constitution – as revolutionary acts and a provocation against Sweden. In 1828 he prohibited the celebration of Constitution Day. However, following the death of King Carl Johan in 1844, there was a change of strategy. In 1845, his successor, King Oscar I attended the May 17th celebrations, and greeted the banner parade from the palatial estate, where the Royal Family stayed during visits to Christiania.
King Oscar I was also the first king to wave from the Palace balcony, albeit not on 17 May, but on 26 July 1849, when the Royal Palace in Christiania was finally completed.
The first children's parade
Marking special days or festivals with celebrations involving parades with banners, music and singing was common in the past. A school headmaster, Peter Qvam, is thought to have come up with the idea of holding the first children's parade in Norway in 1869. Qvam was a friend of the author Bjørnstjerne Bjørnson. Both argued keenly in favour of organising a children's parade to celebrate Constitution Day.
The following year, in 1870, the first children's parade marched to the Palace, stopping to sing the royal anthem beneath the Palace balcony.
Only boys, some 1,200 in all and most of them from Qvam's school in Christiania, took part in the first children's parade. It was not until 1889 that girls, pupils from Mrs Ragna Nielsen's school, were allowed to join the parade. Møllergata school was the first school to have its own band in 1902. The current celebration of the graduates-to-be from upper secondary school dates back to 1905, when the graduating class took part in the May 17th parade for the first time.
The Palace balcony
It was King Haakon and Queen Maud who introduced the custom of greeting the children's parade from the Palace balcony in 1906. The custom has been upheld ever since. The only exceptions were in 1910, when the Royal Family was in England for the funeral of Queen Maud's father, King Edward VII, and during World War II from 1940 to1944.
By 17 May 1945 Crown Prince Olav had returned from London, where he had lived in exile during the war years. That year he was in position on the Palace balcony to greet the 202,000 schoolchildren, who were once again allowed to celebrate 17 May after five years of occupation.
Over a century of tradition
Each year the Royal Family gathers to greet the children's parade from the Palace balcony. Her Royal Highness Princess Ingrid Alexandra is the fifth generation to honour this tradition.
---
This is a slightly edited version of an article also published here on earlier occasions.
Facts
Fakta om feringen av 17. mai
1814: Grunnloven blir utformet og vedtatt av Riksforsamlingen på Eidsvoll.
1815: Den antatt første markeringen av 17. mai finner sted i Trondheim. 
1828: Kong Carl Johan, Konge over Norge og Sverige fra 1818 – 1844, legger ned forbud mot å feire Grunnlovsdagen. Han så markeringen som en revolusjonær handling og en provokasjon overfor Sverige.
1836: Stortinget holder 17. maifest for første gang. Dette regnes som innstiftelsen av 17. mai som nasjonaldag. 
1845: Kong Oscar I har en helt annen holdning. Ved feiringen av 17. mai i Kristiania i 1845 hilser Kongefamilien "fanetoget" fra Paleet hvor de bodde når de besøkte byen.
1869: Skolestyrer Peter Qvam får ideen til det første barnetoget. Sammen med sin venn, dikteren Bjørnstjerne Bjørnson, argumenterer han ivrig for å arrangere barnetog for å feire nasjonaldagen.
1870: Det første barnetoget går til Slottet, hvor man sang Kongesangen foran slottsbalkongen.
1889: De første barnetogene besto bare av gutter. Nå går også jentene med.
1905: Rødrussen er med i 17. maitoget for første gang.
1906: Kong Haakon og Dronning Maud innstifter skikken med å hilse barnetoget i Oslo fra Slottsbalkongen. 
1945: 202 000 skolebarn deltar i det første barnetoget etter fem års okkupasjon.

Tradisjonen tro hilser Kongefamilien barnetoget fra Slottsbalkongen hvert år. Prinsesse Ingrid Alexandra er 5. generasjon som går inn i denne tradisjonen.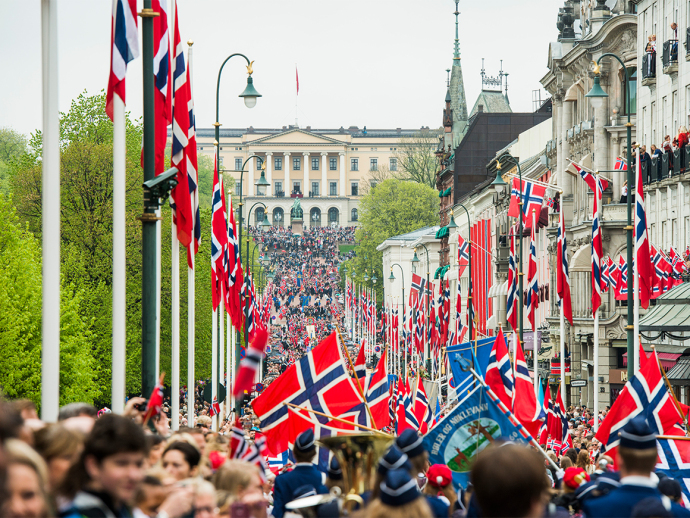 The Children's Parade headed for the Royal Palace. Photo: Fredrik Varfjell / NTB scanpix