UNDP celebrates its 50th anniversary
The United Nations Development Programme (UNDP) has spearheaded the global fight to eradicate poverty for 50 years. His Royal Highness The Crown Prince spoke at the Global Goals Gala in New York yesterday evening.
06.12.2016
A celebrity-filled gala fundraiser was held by UNDP to mark its anniversary. TV host, producer and author Padma Lakshmi hosted the gala, leading the guests through a programme featuring among others Bob Weir, one of the legendary founders of the Grateful Dead.
Three of UNDP'S Goodwill Ambassadors highlighted the organisation's efforts through personal accounts of their own involvement.
Work as a Goodwill Ambassador
Crown Prince Haakon has been a UNDP Goodwill Ambassador since 2003. He has travelled to more than 10 countries in Africa, Asia and South America in this capacity, originally to advocate for the UN Millennium Development Goals and now to promote the UN Sustainable Development Goals which have replaced them. During the gala the Crown Prince spoke about what inspired him to support UNDP in this manner.
He talked about his meeting with a young man named Cedric in a township outside Durban in South Africa. Cedric was HIV positive. His wife was HIV positive. They did not have access to medicines and they knew that they did not have long to live. Cedric was deeply worried about what would become of their children and his disabled sister.
"When we parted," said the Crown Prince, "Cedric shook my hand, looked me in the eye and said: 'Please do everything you can for people like me. Because it is hard.'"
"You don't easily escape that kind of moment."

The Crown Prince's meeting with Cedric became part of the foundation for his subsequent commitment to UNDP. Cedric's request had not been for himself; he was asking on behalf of all people living in poverty. And he was talking to everyone, not just to the Crown Prince.
The Millennium Development Goals have enabled UNDP and the global society to make tremendous strides. The new Sustainable Development Goals apply to all countries, not just developing countries. We all have the opportunity to help to achieve the most ambitious goal of our time: To eradicate extreme poverty by 2030.
Human Development Awards
Crown Prince Haakon will attend several UNDP meetings during his stay in New York and will also participate in the presentation of the Human Development Awards. These awards honour the best regional, national and sub-national Human Development Reports on progress made in and obstacles to combating poverty and inequality. A vast amount of effort is invested in making the myriad of figures, statistics and graphs into a unified whole and giving them a human face. The reports provide recommendations for further activities and measures.
The Crown Prince contributed to writing reports in 2006 and 2007/2008. 
Facts
The 17 UN Sustainable Development Goals
End poverty in all its forms everywhere
End hunger, achieve food security and improved nutrition and promote sustainable agriculture
Ensure healthy lives and promote well-being for all at all ages
Ensure inclusive and equitable quality education and promote lifelong learning opportunities for all
Achieve gender equality and empower all women and girls
Ensure availability and sustainable management of water and sanitation for all
Ensure access to affordable, reliable, sustainable and modern energy for all
Promote sustained, inclusive and sustainable economic growth, full and productive employment and decent work for all
Build resilient infrastructure, promote inclusive and sustainable industrialization and foster innovation
Reduce inequality within and among countries
Make cities and human settlements inclusive, safe, resilient and sustainable
Ensure sustainable consumption and production pattern
Take urgent action to combat climate change and its impacts
Conserve and sustainably use the oceans, seas and marine resources for sustainable development
Protect, restore and promote sustainable use of terrestrial ecosystems, sustainably manage forests, combat desertification, and halt and reverse land degradation and halt biodiversity loss
Promote peaceful and inclusive societies for sustainable development, provide access to justice for all and build effective, accountable and inclusive institutions at all levels
Strengthen the means of implementation and revitalize the global partnership for sustainable development

Source: the UN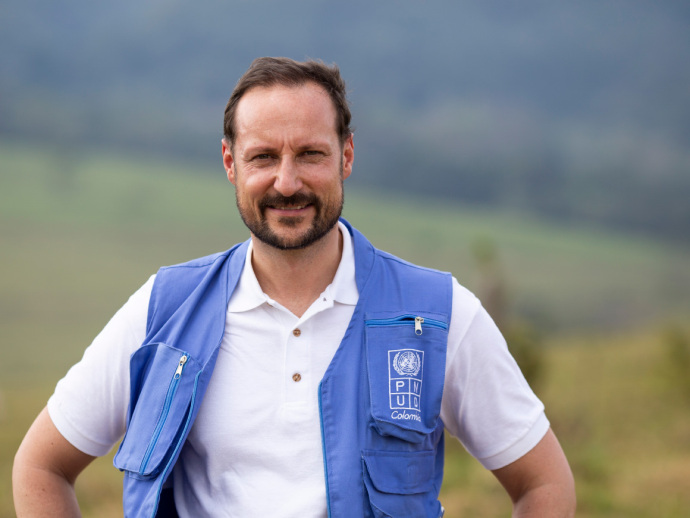 Crown Prince Haakon in Mesetas. Photo: FN-sambandet / Eivind Oskarson.