Celebrating by:Larm
This year the by:Larm music festival marks its 20th anniversary. Their Royal Highnesses The Crown Prince and Crown Princess took part in several events and held a lunch for the music industry at their Skaugum Estate residence.
02.03.2017
by:Larm has established itself as an important festival and music conference for Norway and internationally. Activities include seminars during the day and concerts at night. The concerts give new, less well-known bands a popular arena to showcase their talents.
When by:Larm makes its noise in the city of Oslo, the world pricks up its ears. (Crown Prince Haakon)
The festival also provides a good opportunity for the Norwegian music industry to meet with its international counterparts. Roughly 1 000 music industry professionals from Norway and abroad are taking part. The demand for Norwegian music is on the rise, and top executives from the international music world come to by:Larm in search of new talent and partners.
by:Larm takes place on several different stages and locations in Oslo, from 2‒4 March this year. 
by:Songs songwriters' camp
In the days preceding and during the by:Larm festival, the by:Songs songwriters' camp is being held at Tanken Studios in Sandvika and Whiteroom Studios in Asker. This is the third time the camp is being offered. When the Crown Prince arrived at Tanken Studios on Thursday, musical activities were in full swing throughout the facility. Here, skilled Norwegian and international singers and songwriters meet over several days of creative interaction. The new songs created are destined for Norwegian performers and international albums.
The Crown Prince and Crown Princess with Tayla Parx and Two Inch Punch at by:Songs. Photo: Heiko Junge / NTB scanpix.
Line-up of international stars
At the by:Songs camp, the Crown Prince and Crown Princess had the chance to meet musical performers and songwriters at work. Among the Norwegian participants are Ina Wroldsen and Andreas Schuller (Axident). Ms Wroldsen has collaborated on hits for celebrated performers such as Calvin Harris, Clean Bandit, Britney Spears and One Direction, while Mr Schuller has a BRIT Award for his work with Little Mix and a Grammy nomination with Justin Bieber.
Other well-known international songwriters on hand at by:Songs include:
Evan Bogart, songwriter for Beyoncé, Britney Spears, Carly Rae Jepsen, Madonna and Rihanna;
Ilsey Juber, performer and songwriter for Shawn Mendes, Beyoncé, Drake and Robin Schulz;
Lindy Robbins, songwriter for Selena Gomez, One Direction, LeAnn Rimes and David Guetta.  
The by:Songs camp is a cooperative effort between by:Larm, Music Norway, Whiteroom, Toothfairy and Tanken.
Music industry lunch at Skaugum Estate
The Crown Prince and Crown Princess have taken an active interest in Norwegian music for many years, in Norway and abroad. Much of their involvement is in cooperation with Music Norway, which promotes Norwegian music internationally and facilitates its export. Music Norway cooperates with a number of music industry festivals in Norway and abroad and plays a key role in building networks for exporting Norwegian music.
Thursday the Crown Prince and Crown Princess and Music Norway invited industry professionals to Skaugum Estate for a networking lunch.
The topics were opportunities for Norwegian music in today's market and recruitment of new talent. Profiled individuals from around the world took part in order to meet actors from Norwegian and Nordic record labels and management firms. 
Presenting a talent prize
Tim Blacksmith of Stargate management in Los Angeles was specially invited to Skaugum Estate to present a new Music Norway grant to a promising manager looking to launch international singing careers and whose actions inspire others to act.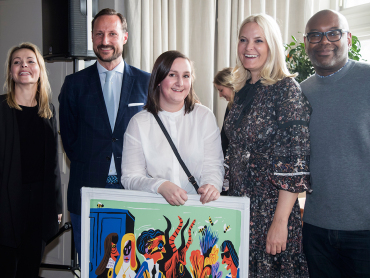 Tim Blacksmith presented the managing talent prize at Skaugum Estate. The prize is a collaboration between Blacksmith, Music Norway and the family of Per Eirik Johansen. Photo: Heiko Junge/NTB Scanpix.
Candidates for the prize were nominated by Norway's music organisations, and the winner was Karen Norbakk of Mandelbaum Management. The grant honours the memory of Norwegian manager Per Eirik Johansen and is to be used to explore and take advantage of international opportunities for the manager and the musical performers he or she represents. 
Best Nordic album
In the afternoon, Crown Prince Haakon took part in a celebration of the by:Larm festival's anniversary at Dansens Hus, Norway's national stage for dance. The Crown Prince gave a speech at the event, and he and the other guests were guided through a look back at the Norwegian and Nordic music industry's past 20 years. 
The Nordic album of the year was also announced. The Crown Prince had the honour of presenting the Phonofile Nordic Music Prize to Jenny Hval for her album Blood Bitch. The judges, comprising music journalists and other experts from Norway, Iceland, Sweden, Denmark and Finland, had selected the following 12 nominees:
Bisse: Højlandet (Denmark)
Cherrie: Sherihan (Sweden)
CTM: Suite for a Young Girl (Denmark) 
The Hearing: Adrian (Finland)
Jenny Hval: Blood Bitch (Norway)
Mikko Joensuu: Amen 2 (Finland)
Jóhann Jóhannsson: Arrival OST (Iceland)
Kornel Kovacs: The Bells (Sweden)
Nosizwe: In Fragments (Norway)
Oranssi Pazuzu: Värähtelijä (Finland)
Skúli Sverrisson, Hilmar Jensson, Arve Henriksen: Saumur (Iceland(and Norway))
Værket: Jealousy Hits (Denmark)