Oslo Innovation Week 2017
Thousands of visitors from around the world have come to take part in Oslo Innovation Week. His Royal Highness Crown Prince Haakon was in attendance at the official opening today.
25.09.2017
The week marks the twelfth time Oslo Innovation Week has been held. The event in Norway is gaining widespread popularity among international entrepreneurs, start-ups and investors.
The opening of Oslo Innovation Week gathered more than 500 entrepreneurs at the Vippa food market, one of several venues in use this week. Over 50 different events will be held in the coming days, and more than 10 000 visitors are expected. The programme features an array of talks, seminars and workshops, and opportunities for pitching of ideas.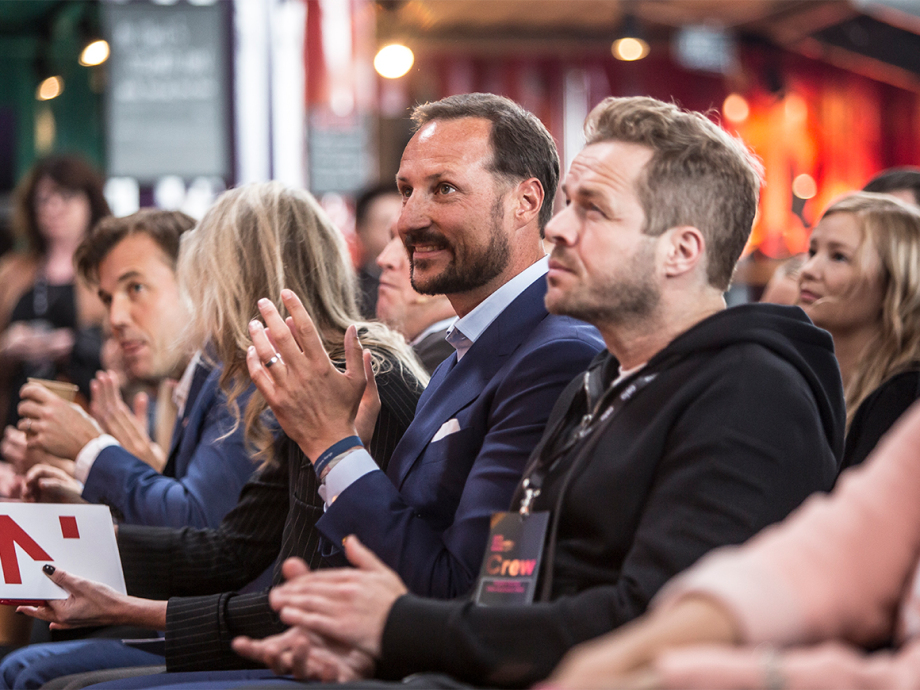 At the opening of Oslo Innovation Week. Photo: Christian T. Jørgensen / EUP-Berlin GbR


Focus on technology and sustainability
This year, Oslo Innovation Week is placing special focus on how technology and start-up environments around the world can help to achieve the United Nations Sustainable Development Goals and solve global challenges. Oslo Innovation Week seeks to play a catalyst role by pushing entrepreneurs, investors and innovators to collaborate and find solutions that can move the world forward towards sustainable change.
More events to come
One of the key elements of Oslo Innovation Week is to provide meeting places for gathering people. On Wednesday Crown Prince Haakon and Crown Princess Mette-Marit are inviting conference contributors, entrepreneurs and investors to a luncheon at Skaugum Estate. On Thursday the Crown Prince is attending the DNB NXT event, which also facilitates contact between entrepreneurs and investors and others who can help them to take their good ideas to the next level.
At DNB NXT the Crown Prince will speak about Ung Invest AIB, one of the projects supported by the Crown Prince Haakon and Crown Princess Mette-Marit's Foundation. By focusing on young people's strengths, instead of their weaknesses, Ung Invest helps those who are at risk of dropping out to return to school and working life. Two youths who have taken part in the programme will be on stage with the Crown Prince and will share their experiences.
Facts
The 17 UN Sustainable Development Goals
End poverty in all its forms everywhere
End hunger, achieve food security and improved nutrition and promote sustainable agriculture
Ensure healthy lives and promote well-being for all at all ages
Ensure inclusive and equitable quality education and promote lifelong learning opportunities for all
Achieve gender equality and empower all women and girls
Ensure availability and sustainable management of water and sanitation for all
Ensure access to affordable, reliable, sustainable and modern energy for all
Promote sustained, inclusive and sustainable economic growth, full and productive employment and decent work for all
Build resilient infrastructure, promote inclusive and sustainable industrialization and foster innovation
Reduce inequality within and among countries
Make cities and human settlements inclusive, safe, resilient and sustainable
Ensure sustainable consumption and production pattern
Take urgent action to combat climate change and its impacts
Conserve and sustainably use the oceans, seas and marine resources for sustainable development
Protect, restore and promote sustainable use of terrestrial ecosystems, sustainably manage forests, combat desertification, and halt and reverse land degradation and halt biodiversity loss
Promote peaceful and inclusive societies for sustainable development, provide access to justice for all and build effective, accountable and inclusive institutions at all levels
Strengthen the means of implementation and revitalize the global partnership for sustainable development

Source: the UN