12 000 entrepreneurs address the corona crisis
On Thursday His Royal Highness The Crown Prince opened a worldwide digital effort to combat COVID-19 called The Global Hack. "We need your ideas," he said in his greeting to the participants.
15.04.2020
The event was organised as a "hackathon" – a large-scale digital brainstorming event for developers to work together on projects in search of solutions to given challenges.
More than 12 000 people from more than 100 countries participated in The Global Hack. The event was designed for the rapid development of ideas and solutions, and small teams worked on approximately 500 different projects to strengthen the world's COVID-19 response.
48-hour hackathon
The Crown Prince thanked everyone who had set aside Easter weekend to work around the clock.
"Thank you for spending your time and energy to make a difference. We need your ideas. We need your entrepreneurial spirit, your ability to see potential and your ability to do things in new ways," said Crown Prince Haakon.
Participants had 48 hours to come up with ideas and solutions that may help to save lives and jobs. They were divided into teams and worked on projects in 10 different tracks. The topics were aligned with the United Nations' Sustainable Development Goals, with a time perspective extending beyond the coronavirus crisis.
Norway a co-organiser
The winning projects within the various categories were announced on Sunday. All of them will receive support and follow-up to help realise as many as possible of the initiatives.
The event was organised in record time, with Oslo hosting live international coverage that was followed by more than a million viewers.
The bigger picture
Crown Prince Haakon has a long standing interest in innovation and entrepreneurship. He is especially interested in how collaboration across traditional sectors and new technologies can contribute to a more sustainable future.
The Crown Prince, who has worked with the UN Development Programme (UNDP) for more than 17 years, was pleased The Global Hack linked its collective effort to the UN Sustainable Development Goals.
"It shows that you see the bigger picture," the Crown Prince said in his greeting. "It's not only about the crisis we're in right now. It's about moving the world forward."
Greeting from His Royal Highness Crown Prince Haakon of Norway to all those participating in the global hackathon to fight the coronavirus pandemic. Photo: The Royal Court
Facts
The 17 UN Sustainable Development Goals
End poverty in all its forms everywhere
End hunger, achieve food security and improved nutrition and promote sustainable agriculture
Ensure healthy lives and promote well-being for all at all ages
Ensure inclusive and equitable quality education and promote lifelong learning opportunities for all
Achieve gender equality and empower all women and girls
Ensure availability and sustainable management of water and sanitation for all
Ensure access to affordable, reliable, sustainable and modern energy for all
Promote sustained, inclusive and sustainable economic growth, full and productive employment and decent work for all
Build resilient infrastructure, promote inclusive and sustainable industrialization and foster innovation
Reduce inequality within and among countries
Make cities and human settlements inclusive, safe, resilient and sustainable
Ensure sustainable consumption and production pattern
Take urgent action to combat climate change and its impacts
Conserve and sustainably use the oceans, seas and marine resources for sustainable development
Protect, restore and promote sustainable use of terrestrial ecosystems, sustainably manage forests, combat desertification, and halt and reverse land degradation and halt biodiversity loss
Promote peaceful and inclusive societies for sustainable development, provide access to justice for all and build effective, accountable and inclusive institutions at all levels
Strengthen the means of implementation and revitalize the global partnership for sustainable development

Source: the UN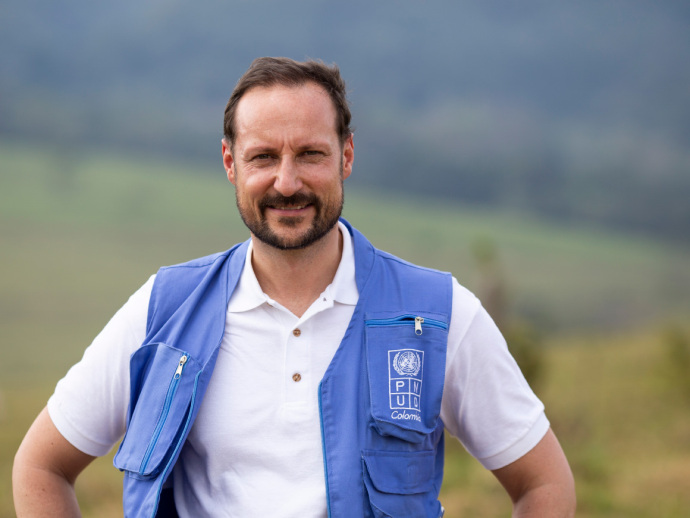 Crown Prince Haakon in Mesetas. Photo: FN-sambandet / Eivind Oskarson.