Queen Sonja Print Award 2020
The Irish-Canadian artist Ciara Phillips is the recipient of the Queen Sonja Print Award 2020. Her Majesty The Queen presented the award at the Royal Palace in Oslo today.
07.10.2020
Forty four artists were nominated for the 2020 award by curators, museum directors and fellow artists from all over the world. The nominees reflect the breadth of contemporary printmaking today, ranging from traditional forms to new approaches involving installation, collage and performance.
Queen Sonja granted Ciara Phillips audience at the Royal Palace this afternoon and presented the award during the following luncheon.
Queen Sonja presents the award to Ciara Phillips. Photo: Sven Gj. Gjeruldsen, The Royal Court
- I am delighted that the Queen Sonja Print Award 2020 goes to an artist that is so deeply committed to the art of printmaking, Queen Sonja says. - Ciara Phillips' formal and social experiments within the graphic arts are bold and unconventional, yet striking and aesthetic.
Ms Phillips receives a cash prize of NOK 400,000 and a residency at the Atelje Larsen art studio in Helsingborg, Sweden.
Statement from the jury
"The jury is unanimously convinced by the fervor of Ciara Phillips' commitment to the medium of printmaking, the boldness of her formal and social experiments within it, and the maturity and confidence of her artistic outlook and attainment in general. Her belief in collaborative practice, manifest in her ongoing Workshop project, grows from a set of political and aesthetic concerns that she elaborates and elevates through concerted making. "
Ciara Phillips' workshop. Photo: Daniel Boud
"Beyond her graphic and compositional prowess, Phillips is also a keen spatial thinker, adept at expanding beyond the conventional wall and frame. Without sacrificing seriousness, her work is imbued with a sense of wonder and delight in the serendipity and collaborative nature of this creative process.
The jury further believes that Phillips is at an ideal point in her career to both benefit from and bring credit to the prize, giving renewed prominence to the field of printmaking and the Foundation's role within it.»
Ciara Phillips
Ciara Phillips (b.1976) is an Irish-Canadian artist living and working in Glasgow, Scotland. Phillips has her MA in Fine Art from Glasgow School of Art, Scotland, and her BA in Fine Art, from Queen's University, Kingston, Canada.
The artist has exhibited widely in public galleries and museums in the UK and internationally - and in Norway at Kunsthall Stavanger and Bergen Kunsthall.
Ciara Phillips at work. Photo: Courtesy of Ciara Phillips
Her long-term artwork Workshop (2010 - ongoing) was nominated for a Turner Prize in 2014. In 2021 there will be exhibitions in both Sligo, Edinburgh and Limerick.
Facts
QSPA
Winners of the Queen Sonja Print Award:
2022: Yto Barrada
2020: Ciara Phillips, Canada/UK
2018: Emma Nishimura, Canada
2016: Tauba Auerbach, USA
2014: Svend-Allan Sørensen, Danmark
2012: Tiina Kivinen, Finland


Winners of the QSPA Inspirational Award 
2022: Meerke Vekterli
2020: 

Anna Pajak, Sverige

2017: Julie Ebbing, Norge
2015: Adam Saks, Danmark


Winners of the QSPA Lifetime Achievement Award
2022: William Kentridge 
2020: Paula Rego

, Portugal

2018:

 

David Hockney

, Storbritannia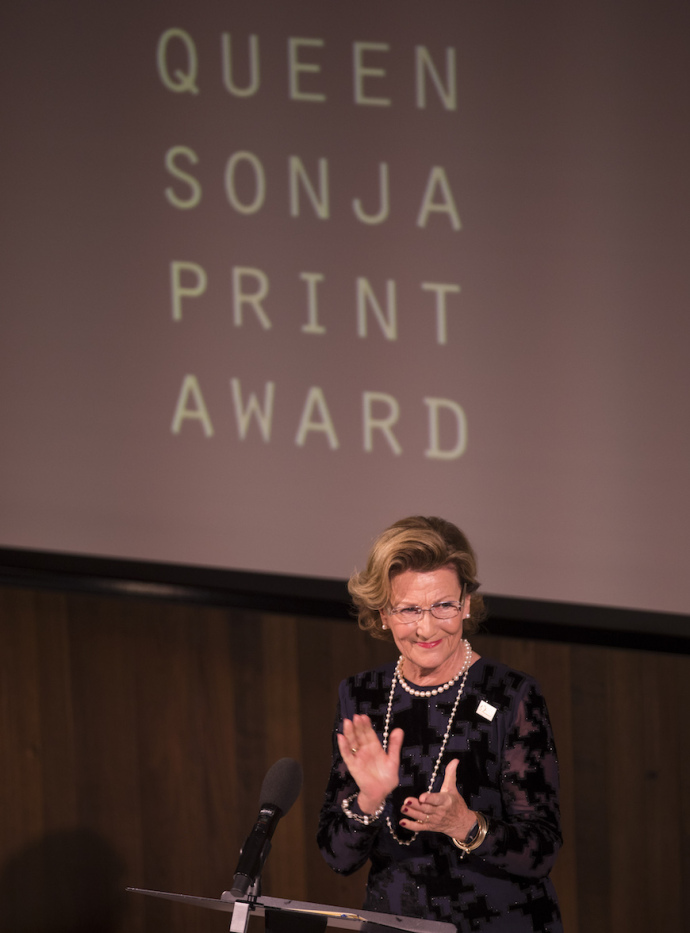 Queen Sonja presents the Queen Sonja Print Award. Photo: Nina Rangøy / NTB scanpix