The Crown Prince opened "The King's Cars"
"Welcome to 'The King's Cars'. This is an exhibition we have very much looked forward to," said His Royal Highness Crown Prince Haakon as he opened the new exhibition in the Queen Sonja Art Stable on 10 February.
10.02.2022
On 11 February, the doors opened for "The King's Cars: Automobiles over four generations", presenting iconic vehicles in the Royal Family's fleet from 1913 to today. The Crown Prince took members of the press and invited guests through the exhibition on its opening day.
Crown Prince Haakon presenting the exhibition "The King's Cars". Photo: Beate Oma Dahle / NTB.
The exhibition tells a story of technological advancement, innovation, electric cars and design.
"This is probably the first car our family ever owned – in Norway," said Crown Prince Haakon, pointing to a yellow Baby Cadillac from 1912.
The toy car was a gift from Queen Alexandra of the United Kingdom to her grandson, Crown Prince Olav. It had a top speed of 20 km/h and a range of 25 km. If the toy version counts, then the Royal Family's very first car was, in fact, an electric car.
Crown Prince Olav in his electric Baby Cadillac at Bygdø Royal Farm. Photo: The Royal Court Photo Archive.
King Haakon's 1913 Minerva is considered the Royal Family's first car, and is normally on display at the Norwegian Museum of Science and Technology along with the Baby Cadillac.
Highlights on display this spring in the Queen Sonja Art Stable include: The 1966 A-5 Lincoln Continental convertible ("the wedding car"), the treasured 1942 Packard One Eighty purchased during the war and in active service well into the 2000s, and the 1939 A-1 Buick Roadmaster, perhaps the Royal Family's best-known car. Its licence plate A-1 is forever linked to peace, freedom and the King's homecoming after WWII on 7 June 1945.
Crown Prince Haakon took the guests through the exhibition "The King's Cars". Photo: Beate Oma Dahle / NTB.
Historic film footage and photographs chronicle meetings between the monarchs and the people, capturing major events in which the vehicles on display played a key role.
With A-1 in the lead, the Royal procession makes its way along Torggata in connection with King Haakon's homecoming on 7 June 1945. Photo: NTB.
The exhibition is on display until 15 May.
Facts
Opening hours 2023
On show: Craftsmanship at the Royal Palace
Open Thursday to Sunday from 11:00 to 17:00.
Please note
The Queen Sonja Art Stable is a small venue and can not keep open when mounting new exhibitions. Changes in opening hours are announced on Facebook and here on Royalcourt.no.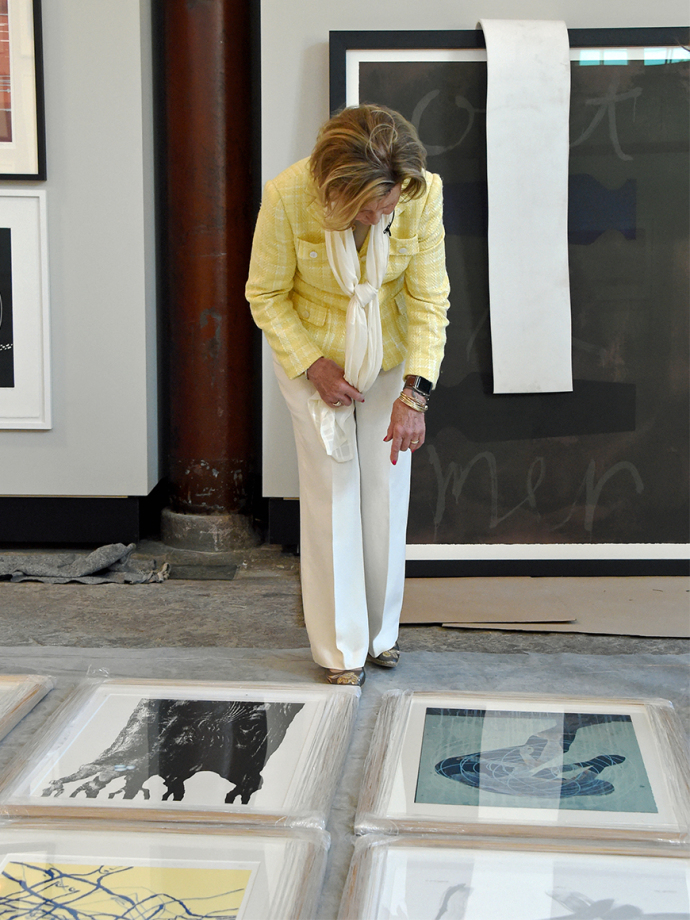 Dronningen i Dronning Sonja KunstStall under monteringen av første utstilling. Foto: Sven Gj. Gjeruldsen, Det kongelige hoff.
Facts
Tickets to the Art Stable
Tickets are available through Ticketmaster and at the door. 
Adults: NOK 125,-
Seniors/students: NOK 100,-
Children (6-17): NOK 60,-


Children under the age of 6 are admitted free of charge
Escorts of persons with disabilities are admitted free of charge


Groups up to 30 persons: 3 000
For group tickets, please contact us at [email protected] or use the form (in Norwegian)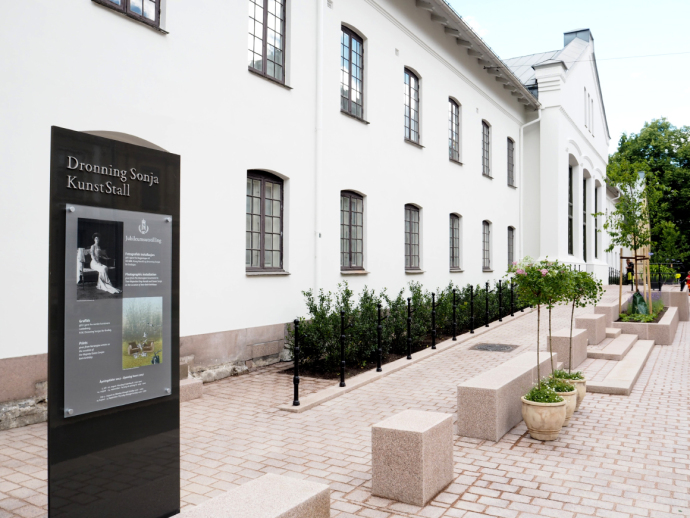 Queen Sonja Art Stable: Entrance from Parkveien. Photo: Nina Ilefeldt, The Royal Court