Crown Prince visits Kenya
Plastic pollution is a major global problem. Today, His Royal Highness Crown Prince Haakon and Her Royal Highness Crown Princess Victoria of Sweden started a three-day visit to Kenya by visiting a waste management facility outside Nairobi that is working to resolve the local plastic pollution problem.
22.11.2022
Crown Prince Haakon and Crown Princess Victoria were welcomed with a performance of traditional Maasai dance on their arrival at the Kitengela waste facility outside Nairobi.

They met the creators of an app supported by the United Nations Development Programme (UNDP) that serves as a waste management tool and also provides information on recycling and refuse treatment.

Crown Prince Haakon and Crown Princess Victoria also spoke with waste pickers who make a living collecting, sorting and recycling plastic waste that would otherwise end up in nature. They are part of an informal sector that has emerged in the absence of public waste management systems and that plays an important role in the effort to combat plastic pollution.
Crown Prince Haakon and Crown Princess Victoria of Sweden at the Kitengela waste management facility outside Nairobi. Photo: Sven Gj. Gjeruldsen / The Royal Court
Earlier in the day, Crown Prince Haakon and Crown Princess Victoria visited Adanian Labs, an innovation centre in Nairobi for young entrepreneurs in various stages of their start-up journeys.

"Here in Kenya we have seen examples of good partnership. It was a real boost to meet the vital entrepreneurs at the Adanian Labs, and to see the good work you do at Kitengela – where technology is playing a role in enabling households to contribute to waste regeneration and livelihood creation for waste collectors," the Crown Prince said in his remarks during the visit.
Read the Crown Prince's speech here 
At the UN's Kenya office 
In the morning Crown Prince Haakon and Crown Princess Victoria met with local United Nations staff and UNDP representatives at the UN building in Nairobi.
Crown Prince Haakon has been a UNDP goodwill ambassador since 2003, and today he was given an introduction to the organisation's efforts in Kenya. Crown Princess Victoria serves as one of the UN's official advocates for efforts to achieve the global organisation's Sustainable Development Goals, which constitute the world's shared agenda to eradicate poverty, fight inequality and curb climate change by 2030.
In addition to UNDP and the many other UN organisations with offices in Nairobi, the Kenyan capital serves as the global headquarters of the UN Environment Programme (UNEP).
Meeting UN and UNDP staff at the UN's Kenya office. Photo: Sven Gj. Gjeruldsen
The UN Environment Programme and the UN Human Settlements Programme (UN-Habitat) are the forces behind a new report on plastic pollution in Kenya that was issued during the visit. The Norwegian researcher Emmy Nøklebye of the Norwegian Institute for Water Research (NIVA) presented the report.

Combatting climate change and ending poverty are two of the critical Sustainable Development Goals. Photo: Sven Gj. Gjeruldsen / The Royal Court
The three-day visit concludes on Thursday with a focus on Norwegian-Swedish-Kenyan business cooperation.
Facts
The 17 UN Sustainable Development Goals
End poverty in all its forms everywhere
End hunger, achieve food security and improved nutrition and promote sustainable agriculture
Ensure healthy lives and promote well-being for all at all ages
Ensure inclusive and equitable quality education and promote lifelong learning opportunities for all
Achieve gender equality and empower all women and girls
Ensure availability and sustainable management of water and sanitation for all
Ensure access to affordable, reliable, sustainable and modern energy for all
Promote sustained, inclusive and sustainable economic growth, full and productive employment and decent work for all
Build resilient infrastructure, promote inclusive and sustainable industrialization and foster innovation
Reduce inequality within and among countries
Make cities and human settlements inclusive, safe, resilient and sustainable
Ensure sustainable consumption and production pattern
Take urgent action to combat climate change and its impacts
Conserve and sustainably use the oceans, seas and marine resources for sustainable development
Protect, restore and promote sustainable use of terrestrial ecosystems, sustainably manage forests, combat desertification, and halt and reverse land degradation and halt biodiversity loss
Promote peaceful and inclusive societies for sustainable development, provide access to justice for all and build effective, accountable and inclusive institutions at all levels
Strengthen the means of implementation and revitalize the global partnership for sustainable development

Source: the UN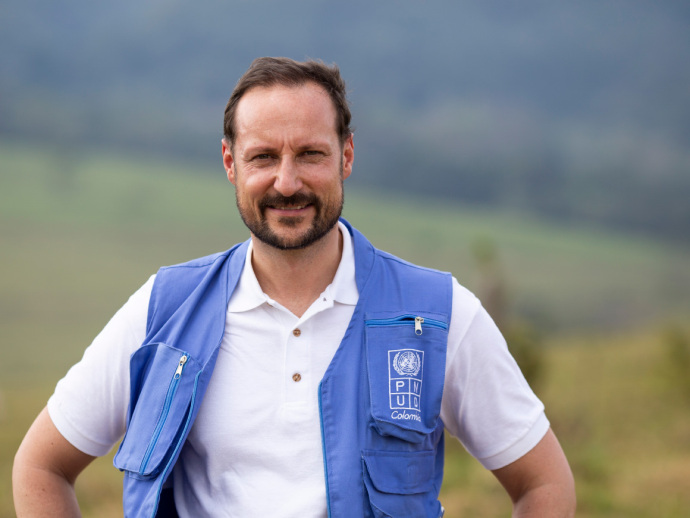 Crown Prince Haakon in Mesetas. Photo: FN-sambandet / Eivind Oskarson.