Science and culture
Research, sports, beekeeping and music. Norway and Slovenia share a wide array of interests, and today the King and Queen and the Slovenian President, Borut Pahor, gained insight into several of them.
07.11.2019
Their Majesties The King and Queen and His Excellency President Borut Pahor began today's programme with a networking seminar at the SINTEF research group's facilities in Oslo Science Park, where Norwegian-Slovenian cooperation has already produced positive results. 
Future-looking cooperation
Representatives of SINTEF and Slovenia's Jožef Stefan Institute welcomed the official delegations and presented ongoing research on artificial intelligence and sustainable green technologies.
The King and Queen during their visit to SINTEF. Photo: Sven Gj. Gjeruldsen, the Royal Court
Inside the exhibition area, the King and Queen and President Pahor were able to take a closer look at cutting edge technology from Norway and Slovenia. One of the products available for viewing was a Zivid 3D camera, described as the world's most accurate, real-time 3D camera, which enables robots to discern distance, shape and colour in much the way a human does. Its potential applications in industry are numerous, and Zivid received the Research Council of Norway's Innovation Award in 2018. 
The guests also oversaw the signing of a new agreement that further strengthens collaboration between SINTEF and the Jožef Stefan Institute.
Holmenkollen
Slovenia and Norway share a passion for ski jumping. Events at Planica – the big ski flying hill in Slovenia – are eagerly watched by many Norwegians. This morning, the King and Queen and President Pahor visited the Holmenkollen ski jump, where for many years great Slovenian jumpers such as Peter Prevc, Robert Kranjec and Jurij Tepeš have added to the excitement. 
Queen Sonja and President Pahor admire the view from Holmenkollen. Photo: Sara Svanemyr, the Royal Court
Today, an exhibition on Slovenian alpine architecture opened at the Ski Museum. There was also an opportunity to view the Ski Museum's exhibition on polar expeditions – and the Royal Family's connection to Holmenkollen.
Waiting at the top of the jump tower was the ski jumper Bjørn Einar Romøren, who has been down the hill in Oslo many times. He is also well-acquainted with Planica, where in 2005 he jumped an incredible 239 metres, setting a world record.
The guests had an experienced guide in Bjørn Einar Romøren in Holmenkollen. Photo: Sara Svanemyr, the Royal Court
After the visit to Holmenkollen, the Government hosted an official luncheon in the Government's representational complex.
Bees at BI
World food production is dependent on bees and other pollinating insects, and it is essential to accommodate these busy helpers. Slovenia has a robust beekeeping tradition, and when the United Nations declared 20 May "World Bee Day" it was at Slovenia's initiative.
This afternoon, President Pahor, King Harald and Crown Prince Haakon attended a seminar on bees and pollination at BI Norwegian Business School. The guests heard interesting presentations on such topics as Norway's National Pollinator Strategy, the importance of green infrastructure and the role of literature in addressing the environmental crisis. 
President Pahor presented the King and Queen with a gift from Slovenia: a traditional Slovenian beehive structure with room for several hives. The structure is based on the design of Anton Žnidaršič, a major pioneer of beekeeping.
Crown Prince Haakon, President Pahor and King Harald in front of the Slovenian apiary. Photo: Sven Gj. Gjeruldsen, the Royal Court
The apiary will be positioned on a roof at BI Norwegian Business School in collaboration with Oslo's urban beekeeping association, ByBi. 
Jazz concert at Gamle Logen 
The State Visit concludes tonight at Gamle Logen, where the President of Slovenia is hosting a Slovenian-Norwegian jazz concert. The Žan Tetičkovič ensemble is to perform, with Eivind Opsvik sitting in on double bass. 
Following the concert, King Harald, Queen Sonja and Crown Prince Haakon will be have the opportunity to taste a variety of Slovenian traditional foods.
Facts
Facts about the Republic of Slovenia
Capital city: Ljubljana 
Largest cities: Ljubljana, Maribor and Celje
Total area: 20 273 km²
Population in 2018: Slightly more than 2 million 
Official language: Slovenian, as well as Italian and Hungarian which are spoken in some municipalities along the borders.
Form of government: Republic 
Head of State in 2019: President Borut Pahor
Head of State in 2011: President Danilo Türk
Slovenia and Norway established diplomatic relations in 1992, and ties between the two countries are very good. Their Majesties King Harald and Queen Sonja visited Slovenia in May 2011. This was the first State Visit from Norway to Slovenia. Former President Milan Kučan paid a visit to Norway in 1997, when he was granted an audience with King Harald.
Source: Norwegian Ministry of Foreign Affairs.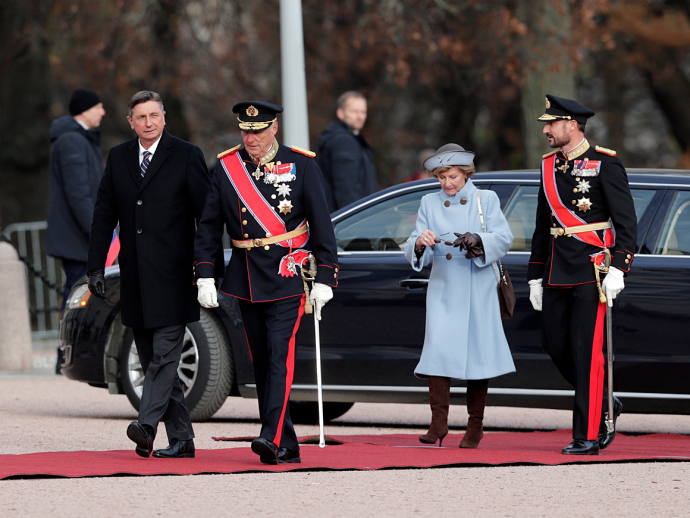 King Harald and Queen Sonja welcome President Borut Pahor in the Palace Square. Crown Prince Haakon accompanied President Pahor from the airport. Photo: Stian Lysberg Solum / NTB scanpix