Official visit to Mozambique
His Royal Highness Crown Prince Haakon began a two-day visit to Mozambique upon landing in Maputo yesterday evening. His agenda includes the oceans and the environment as well as business, energy and social inclusion.
12.02.2020
Norway's Minister of International Development, Dag-Inge Ulstein, is accompanying the Crown Prince on the trip. Also present are representatives of the Norwegian business community, which is showing increasing interest in the East African country.
Norway and Mozambique both have extended coastlines and share a commitment to clean and sustainable oceans. Mozambique is also among the countries most vulnerable to the effects of climate change. Mozambicans have been subject to increasingly frequent extreme weather events, and in 2019 the cyclones Idai and Kenneth caused enormous devastation. 
Oceans and the environment
Marine litter was a major focus as Crown Prince Haakon visited the Costa do Sol primary school outside Maputo this morning. The school, which is located near Praia dos Pescadores beach, participates in a Norwegian-supported project targeted towards sustainable seas and marine litter research. The goal is to raise environmental awareness in schools and education and to help with the clean-up in local communities. 
Children at the school in the Costa do Sol outside Maputo showed the Crown Prince and Dag-Inge Ulstein items they made out of plastic from the beach. Photo: Sven Gj. Gjeruldsen, The Royal Court
Almost 13 million tonnes of plastic end up in the oceans each year. The fact that today's children are growing up conscious of the problem and taking an active role in clean-up actions is grounds for optimism and faith that it is possible to bring about the changes required.
Down at the beach the Crown Prince learned more about the effects of climate change in Mozambique. Cyclones, droughts and floods have hit the country hard. Mozambique is a poor country where most of the population depends on subsistence agriculture. The natural disasters destroy crops and infrastructure and create great numbers of internally displaced people.
On the beach Carlos Serra, head of the CEAR environmental cooperative, explained more about the effects of climate change in Mozambique. Photo: Sven Gj. Gjeruldsen, The Royal Court
This vulnerability and initiatives to create a more resilient Mozambique in the face of climate change were topics of discussion at a luncheon held at the Norwegian residence in Maputo.
Meeting with the President
From the school, Crown Prince Haakon travelled to a meeting with His Excellency, President Filipe Jacinto Nyusi. After introductory talks, the two attended the signing of a new agreement under the Oil for Development programme. 
Mozambique has extensive natural resources and anticipates major development of liquefied gas plants. The discoveries could make Mozambique a major supplier of energy in the world market and serve as the key to welfare expansion in the country.
Crown Prince Haakon and President Filipe Nyusi met for talks. Photo: Sven Gj. Gjeruldsen, The Royal Court
Norway has provided technological assistance to Mozambique's petroleum sector for more than 30 years. The agreement signed today takes that cooperation a step further. It emphasises a form of resource management that allows the country's wealth to benefit the entire society. There is valuable expertise to be gained from the Norwegian model in this area.  
Inclusion of vulnerable groups
The start-up of a major collaborative project between six Mozambican and four Norwegian organisations will be marked from 12 to 14 February. The project, called "Together for inclusion, Mozambique", opened today with Crown Prince Haakon in attendance. It focuses on the rights of disabled people and covers important topics such as organisation, education and financial independence.
Crown Prince Haakon also visited the television channel TV Surdo. TV Surdo produces programmes that promote disabled people's rights and cover issues such as health, nutrition and HIV. The channel is one of three Norwegian-supported organisations cooperating to educate journalists and develop journalism based on the inclusion of vulnerable groups. 
The Crown Prince and Dag-Inge Ulstein with the entire editorial staff of TV Surdo. Photo: Sven Gj. Gjeruldsen, The Royal Court
The team behind the programmes spoke with the Crown Prince about challenges facing people with disabilities in Mozambique today, and Crown Prince Haakon recorded a video greeting for TV Surdo.
Official dinner
This evening Crown Prince Haakon is President Nyusi's guest at an official dinner in the President's palace.  
A busy programme awaits tomorrow, with business cooperation, a seminar on the role of women in peace work and field visits targeting energy topics.
While visiting TV Surdo, Crown Prince Haakon recorded this video greeting to the staff. Photo: TV Surdo
Facts
Facts about Mozambique
Capital: Maputo
Largest cities: Maputo, Matola and Beira 
Area: 799 380 km2 (Norway: 385 203 km²)
Population: about 29 million (2018)
Official language: Portuguese (11 per cent), though Makua is the most widely spoken (25 per cent)
Independence from Portugal: 25 June 1975
Form of government: Republic
Head of state 2020: President Filipe Jacinto Nyusi
Norway and Mozambique enjoy excellent relations dating back to 1977 when President Samora Machel visited Norway and King Olav.
Mozambique is one of the world's poorest countries, and faces major challenges. Development assistance from Norway to Mozambique is important, but cooperation and partnership are growing in a number of major areas.
Norwegian business activity has been modest, but interest is on the rise – especially in the energy sector. Large gas discoveries off the coast could turn Mozambique into a major global supplier of energy. 
Source: Ministry of Foreign Affairs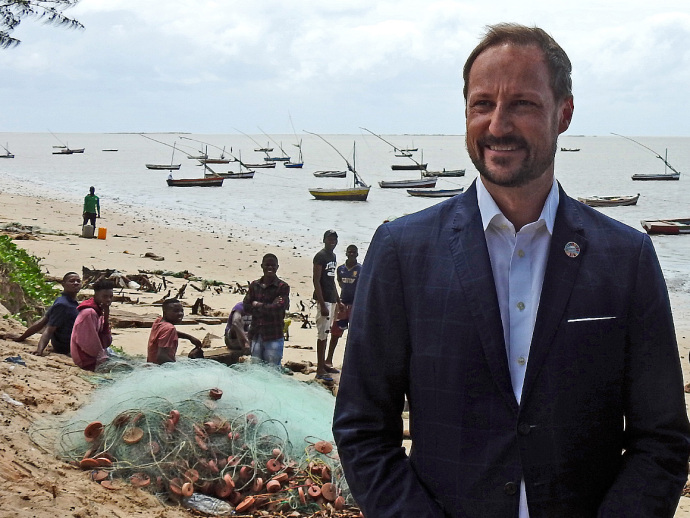 Crown Prince Haakon at the beach outside Maputo. Photo: Sven Gj. Gjeruldsen, The Royal Court