Kenya's protection of its mangrove forests
Mangroves have a large capacity for storing carbon, so mangrove forest conservation is important in the effort to combat climate change. His Royal Highness Crown Prince Haakon and Her Royal Highness Crown Princess Victoria of Sweden visited a unique mangrove project today in Kenya's far south.
23.11.2022
Kenya has committed to protecting mangrove forests as part of its contribution to help reach global climate change targets under the Paris Agreement. Crown Prince Haakon and Crown Princess Victoria travelled today to Kenya's southernmost district, Kwale County. The Mikoko Pamoja project (Swahili for "Mangroves Together") there is attracting global attention.
Mikoko Pamoja
Mikoko Pamoja is a conservation and replanting project to benefit local mangroves. The villages of Gazi and Makongeni are deeply involved in the project, which benefits the wider local population as well. The mangroves' carbon-storage capacity is converted into climate credits that are sold through the Swedish organisation ZeroMission. The revenues are used to fund additional tree planting as well as investments in clean water, textbooks and schooling for village residents.
Visiting the mangrove forests of Gazi. Some 2 000 mangrove seedlings are planted here each year. Photo: Lise Åserud, NTB.
Mangrove forests are an important component of the regional ecosystem and enhance its biological diversity. Local fishers have noticed the positive effects of mangroves on catch volumes. The Mikoko Pamoja project also generates employment opportunities associated with planting and conservation as well as ecotourism.
Making governance more inclusive
In 2010, Kenya adopted a constitution recognised as highly progressive in areas such as democracy, local participation and women's rights. The Kenyan constitution established 47 self-governing counties in order to promote a more decentralised, fair and inclusive system of governance.
Today, Crown Prince Haakon and Crown Princess Victoria visited Kwale County in the far south of the country. They were welcomed by Governor Fatuma Achani, the first woman country governor in Kwale County, and one of seven women county governors throughout Kenya.
Kwale County Governor Fatuma Achani welcomes Crown Princess Victoria and Crown Prince Haakon to Kwale County. Photo: Lise Åserud / NTB  
The Crown Prince and Crown Princess were given a presentation on the work being carried out in fields such as health, education, clean water and food security. The local authorities are giving priority to key community services that benefit poor and vulnerable segments of the population in particular.
The UN Development Program cooperates with the Kenyan authorities to promote local democracy and increase public understanding of the important role that democracy has to play in achieving sustainable development and safeguarding security.
Crown Prince Haakon and Crown Princess Victoria met Fatuma Achani, the Governor of Kwale County. Photo: Lise Åserud / NTB
Official dinner
This evening Crown Prince Haakon and Crown Princess Victoria will attend an official dinner hosted by UNDP. A number of people will speak during the event, the focus of which will be Kenya's efforts to combat climate change and realise the Sustainable Development Goals. Tomorrow's programme in Nairobi will focus on business cooperation and innovation.
Facts
The 17 UN Sustainable Development Goals
End poverty in all its forms everywhere
End hunger, achieve food security and improved nutrition and promote sustainable agriculture
Ensure healthy lives and promote well-being for all at all ages
Ensure inclusive and equitable quality education and promote lifelong learning opportunities for all
Achieve gender equality and empower all women and girls
Ensure availability and sustainable management of water and sanitation for all
Ensure access to affordable, reliable, sustainable and modern energy for all
Promote sustained, inclusive and sustainable economic growth, full and productive employment and decent work for all
Build resilient infrastructure, promote inclusive and sustainable industrialization and foster innovation
Reduce inequality within and among countries
Make cities and human settlements inclusive, safe, resilient and sustainable
Ensure sustainable consumption and production pattern
Take urgent action to combat climate change and its impacts
Conserve and sustainably use the oceans, seas and marine resources for sustainable development
Protect, restore and promote sustainable use of terrestrial ecosystems, sustainably manage forests, combat desertification, and halt and reverse land degradation and halt biodiversity loss
Promote peaceful and inclusive societies for sustainable development, provide access to justice for all and build effective, accountable and inclusive institutions at all levels
Strengthen the means of implementation and revitalize the global partnership for sustainable development

Source: the UN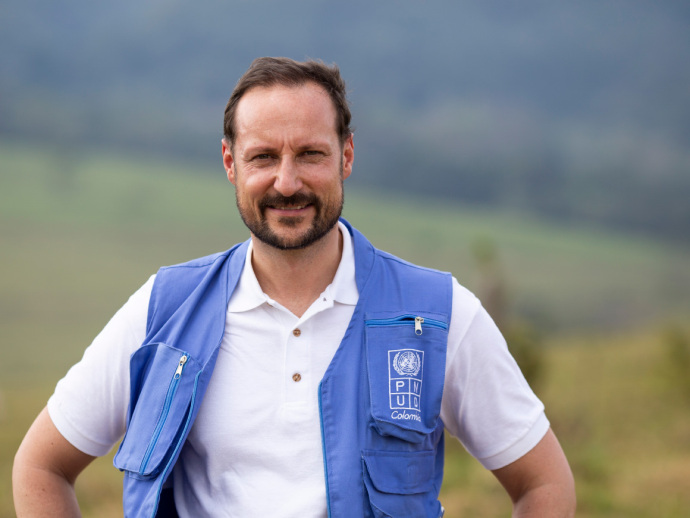 Crown Prince Haakon in Mesetas. Photo: FN-sambandet / Eivind Oskarson.