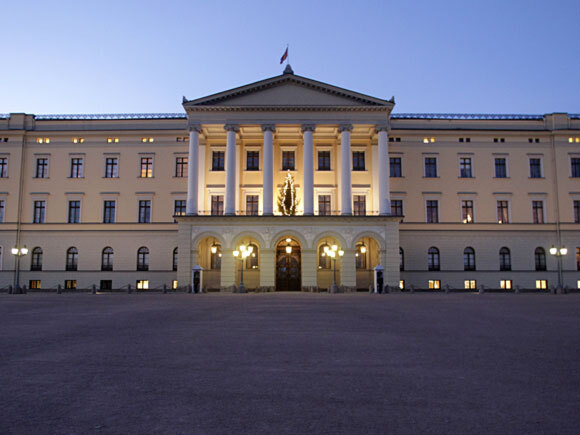 The Royal Palace. Photo: Lise Åserud / NTB scanpix
The Royal Palace
The Royal Palace is situated on a rise, the Bellevue, at one end of Oslo's main thoroughfare, Karl Johans gate. The Royal Palace is one of the country's most important buildings, and a concrete symbol of the course of Norwegian history since 1814.
Building activities commenced in 1824, and the foundation stone was laid by King Carl Johan on 1 October 1825. The Palace was officially taken into use on 26 July 1849 by King Oscar I.
The Royal Palace is owned by the state and placed at the disposal of the head of state. It is where the daily work of the monarchy is conducted and where the King and Queen live. It is where the King presides over the Council of State, grants audiences and holds official dinners. Foreign heads of state who visit Oslo stay at the Palace. Most of the members of the Royal Court have their workplace here.
The Royal Palace is open to the public during the summer season.