Ocean Retreat
Speech given by His Royal Highness The Crown Prince at Ocean Retreat, Loeb Boathouse, Central Park New York, 25 September 2018.
Excellencies, Ladies and gentlemen,
Friends of the ocean,

It is a privilege to be here at this Ocean Retreat.
I am always optimistic when I am surrounded by people with the ability, the will and the passion to make a difference. And I know this is an accurate description of all of you. That's why you are here.
Before I continue, I would like to say a few words about the backdrop for why we are here today:
Estimates show that we will be about 10 billion people on the planet by 2050. 10 billion people will need food, energy and means of transport. Many of our future solutions to these challenges lie in the ocean. But all this depends on our ability to manage our oceans sustainably today. And our oceans are not in good health. We are not doing that job right.
According to the OECD, the ocean economy alone could create 40 million jobs globally by 2030. Unleashing the tremendous, untapped potential of our oceans is key to reaching our Sustainable Development Goals.
The problem is acidification, marine litter and overfishing are putting pressure on the fragile health of the world's oceans. Unless we take steps to safeguard the marine environment, we will not be able to harvest the wealth of the ocean.
In Norway, the ocean runs through our history like a blue thread. The ocean is where we got our jobs, where we found our food and it plays a significant part in our culture.
The ocean has also been a very important part of my life – coming from a family that is very much connected to the sea. My father and grandfather - keen sailors, and I have always felt very close to the ocean. This year our familiy went to Svalbard, the northernmost permanently inhabited place in the world - an island north of the Norwegian mainland.
But even if you go to a remote place like Svalbard, if you sit down by the seaside and you start looking, you are likely to find plastic - plastic carried there from across the ocean.
Every year, 8 million tonnes of plastic are released into the oceans. But I do think there are reasons to hope. In December 2017, the United Nations Environment Assembly took a bold step and adopted a "zero vision" that stresses the importance of eliminating all discharge of plastic litter into the oceans. Marine litter has become an issue that is well known around the world, largely thanks to the internet and social media. 
And people care. They want clean and healthy oceans. Amazing projects by dedicated people with passion and tech skills are coming to life. If we manage to capitalise on the current momentum, I am confident that the world will see a dramatic reduction of plastic in the oceans in the future.
I have for a long time been engaged in the efforts to meet global goals, first the MDGs, and now the SDGs. The oceans are of course very important in reaching the whole set of SDGs: hunger, health, jobs, climate change, energy, sustainable communities and global partnerships. And of course number 14: our ocean.
The SDGs provide both guidance and impetus for our concerted efforts and concrete actions to safeguard our ocean. Some people think that we face a difficult choice between the use and the conservation of our marine resources. I believe we can strike a good balance between the two.
Norway has extensive experience that shows that it is possible to harvest the sea's resources without reducing their value. But this requires that we acknowledge the close links between clean and healthy oceans, the sustainable use of ocean resources based on scientific knowledge, and economic growth and development. 
In order to succeed, we need strong teamwork at the global level. And this is where you all come in: The private sector has a key role to play in the transition to a sustainable ocean economy – and in advancing the 2030 Agenda and working to achieve the SDGs. The broad involvement of governments, civil society and academia is crucial.
The UN Global Compact Action Platform for Sustainable Ocean Business is a very good example of the kind of concerted effort we need. It involves joining forces to promote sustainable ocean development, which in turn involves taking crucial steps to meet the SDGs.
The sea is a one of the planet's most valuable and treasured resources – and we need to treat it as such.
I wish you every success in the work to further develop this important ocean business platform.
Thank you.
25.09.2018
Facts
The 17 UN Sustainable Development Goals
End poverty in all its forms everywhere
End hunger, achieve food security and improved nutrition and promote sustainable agriculture
Ensure healthy lives and promote well-being for all at all ages
Ensure inclusive and equitable quality education and promote lifelong learning opportunities for all
Achieve gender equality and empower all women and girls
Ensure availability and sustainable management of water and sanitation for all
Ensure access to affordable, reliable, sustainable and modern energy for all
Promote sustained, inclusive and sustainable economic growth, full and productive employment and decent work for all
Build resilient infrastructure, promote inclusive and sustainable industrialization and foster innovation
Reduce inequality within and among countries
Make cities and human settlements inclusive, safe, resilient and sustainable
Ensure sustainable consumption and production pattern
Take urgent action to combat climate change and its impacts
Conserve and sustainably use the oceans, seas and marine resources for sustainable development
Protect, restore and promote sustainable use of terrestrial ecosystems, sustainably manage forests, combat desertification, and halt and reverse land degradation and halt biodiversity loss
Promote peaceful and inclusive societies for sustainable development, provide access to justice for all and build effective, accountable and inclusive institutions at all levels
Strengthen the means of implementation and revitalize the global partnership for sustainable development

Source: the UN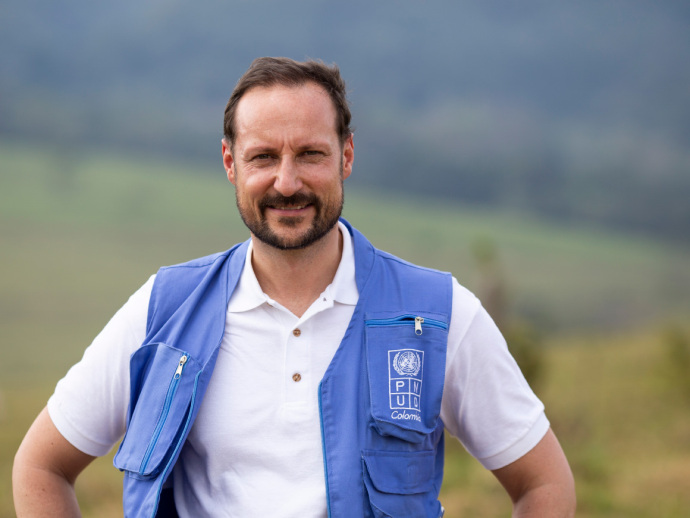 Crown Prince Haakon in Mesetas. Photo: FN-sambandet / Eivind Oskarson.