In focus: Trade, industry and innovation
Crown Prince Haakon is interested in Norwegian trade, industry and value creation, and has been involved especially in entrepreneurship and the green transition. The SIKT conference was established as a result of the Crown Prince's wish to expand his involvement in the business arena.
The activities of Crown Prince Haakon in the sphere of trade and industry are a continuation of the work carried out by His Majesty The King over many years.
Company visits at home and abroad
Over the years the Crown Prince has paid innumerable visits to companies and met managers and employees at a large number of businesses throughout Norway. He attends the annual conference of the Confederation of Norwegian Enterprise (NHO), and he met with the Norwegian Confederation of Trade Unions (LO) for an introduction in the Tripartite cooperation in 2016.
The Crown Prince is accompanied by a large delegation from Norwegian trade and industry on official visits abroad. In cooperation with the Ministry of Foreign Affairs and Innovation Norway, meetings are organised between representatives for Norwegian trade and industry and potential customers and business partners in other countries. In addition, the Crown Prince focuses attention on Norwegian companies and products through visits and special events during his travels.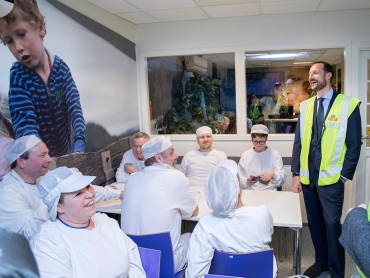 TINE's production facility at Kalbakken in Oslo sends 100 million litres of milk to grocery stores each year, in addition to 30 million litres of juice and 30 million litres of other products.  Photo: Gorm Kallestad, NTB scanpix

In 2013, the Crown Prince sought to expand his involvement in Norwegian trade and industry, and established the SIKT conference.
SIKT – a conference for young leaders and talents
The SIKT conference seeks to draw on the energy and optimism of young leaders and talented individuals, 20 to 40 years of age. The objective is to serve as a relevant arena for innovation and unbiased discussion about the future of Norway across various sectors. Some 200 people from trade and industry, the public sector, organisations, academia and the cultural sphere attend the conference each year.  The conference takes place over one and a half days of tightly scheduled events – usually in the month of October.
The SIKT conference was first launched in 2013, and has been held annually since then – each year in a new location and with a specific theme:
2013: Norwegian University of Science and Technology in Trondheim (The Future of Norway)
2014: UiT – The Arctic University of Norway (Innovation and Creativity)
2015: University of Bergen (Leadership)
2016: Norwegian University of Science and Technology in Ålesund (Innovation)
2017: University of Agder, Kristiansand (Cooperation)
2018: University of Stavanger (Change)
2019: Lillehammer (Creating value)
2020: Digital SIKT from Skaugum estate (the Pandemic)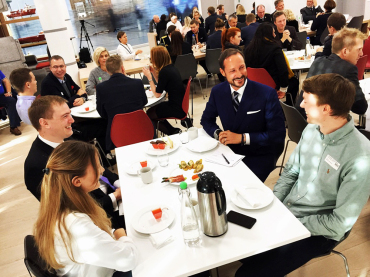 During the SIKT conference 2016, the Ålesund region's trade and industry association invited 80 young leaders and talented individuals from the surrounding area to a breakfast meeting. Photo: Christian Lagaard, The Royal Court
Today there are active alumni groups in all of the cities where the SIKT conference has been held. SIKT networks have also been established in Stavanger and Oslo.
Innovation and the green transition
Crown Prince Haakon is interested in Norwegian entrepreneurs, or start-ups, and young business people who form new companies. In the current transition process that Norwegian trade and industry is undergoing, creativity and innovation are critical for ensuring that this transition is as successful as possible. The Crown Prince has been an active participant at international conferences for entrepreneurs and innovators, Oslo Innovation Week, Slush, Shift and Bett.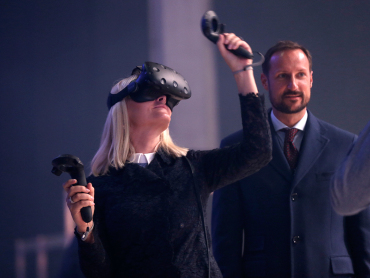 The Crown Prince and Crown Princess got the chance to try VR goggles during Oslo Innovation Week. Photo: Vidar Ruud / NTB scanpix


The Crown Prince is especially interested in companies that take advantage of the opportunities inherent in the green transition. He is also passionate about the creative industries, and often attends events related to music, film and outdoor life.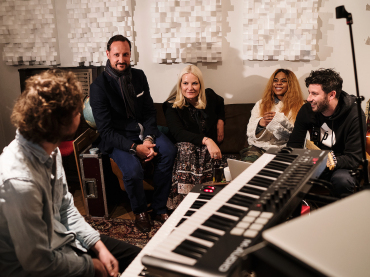 The Crown Prince and Crown Princess visit a song-writing workshop at the by:Larm music festival. Photo: Olav Stubberud, by:Larm.
 
Together with the Crown Princess, he actively supports the music industry and opportunities to export Norwegian music, partly in cooperation with Music Norway.