Bjørnson in a Slovakian rendition
Bjørnstjerne Bjørnson played a prominent role on the second day of the State Visit of His Excellency President Andrej Kiska of Slovakia to Norway. Norway's eminent national poet-playwright is remembered with great fondness in Slovakia.
05.06.2018
Bjørnstjerne Bjørnson was known as a champion of the rights of small nations to self-determination, as well as to maintain their language and culture. His efforts won him a place in the hearts of Slovakians that still remains strong 118 years after his death. The King and Queen experienced this personally during their State Visit to Slovakia in 2010.
This afternoon, Their Majesties The King and Queen and Her Highness Princess Astrid, Mrs Ferner, together with President Kiska, were in attendance at the National Theatre for a special performance of Bjørnson's "Beyond Our Power" by the Slovak National Theatre, which is currently staging a production of the play at home.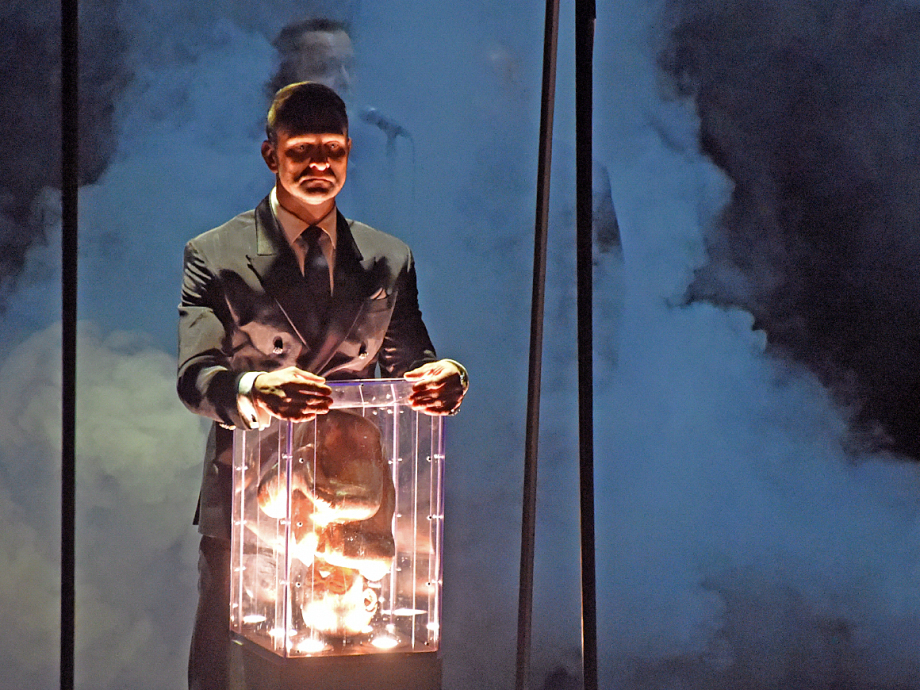 During the gala dinner on Monday evening, King Harald spoke of Bjørnstjerne Bjørnson's inspirational role in both Norway and Slovakia, and concluded his speech with a Bjørnson quote: "'Good deeds save the world.' Bjørnson's actions and values should be a source of inspiration for all of us – also today." 
"Let me end with a quote from Bjørnson: "Good deeds save the world". Bjørnson's actions and values should be a source of inspiration for all of us – also today.
Maritime start to the day
The day's programme began with a visit to the Wilhelmsenglobal maritime industry group at Lysaker. The guests were welcomed by Group CEO Thomas Wilhelmsen and shipping magnate Wilhelm Wilhelmsen. The overall focus of the visit was modern technology.
The King and Queen and the President were given an orientation on several innovative solutions, including smart ropes that send digital signals to a ship's crew with extensive information about the tension of mooring ropes. 
Slovakia is one of Europe's largest automobile producers, and the auto industry of tomorrow was also on the agenda during the visit. 
Searching for new medicines
Oslo Cancer Cluster comprises approximately 90 companies dedicated to developing new diagnostic methods and medicines for cancer. Its members' activities extend from basic research to pharmaceuticals, with the aim of becoming a European leader in cancer research.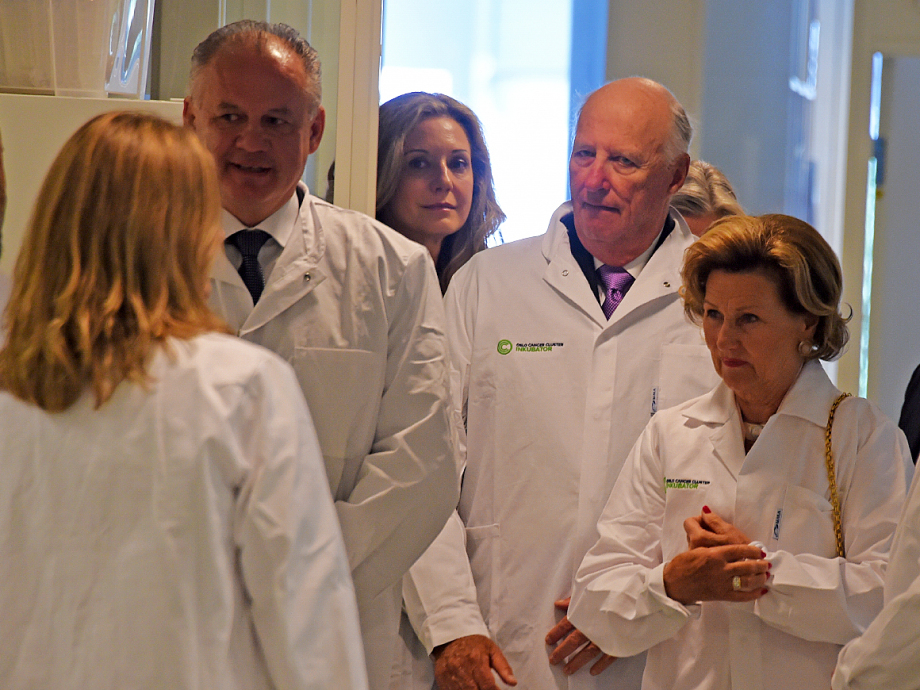 Some 30 of the companies are situated in proximity to the Norwegian Radium Hospital, together with the Cancer Registry of Norway and Ullern upper-secondary school. Oslo Cancer Cluster cooperates with the school to inspire interest in science and research. The King and Queen and President Kiska greeted rector Torill Røeggen and some of her pupils before the start of a scientific presentation of ongoing cancer research.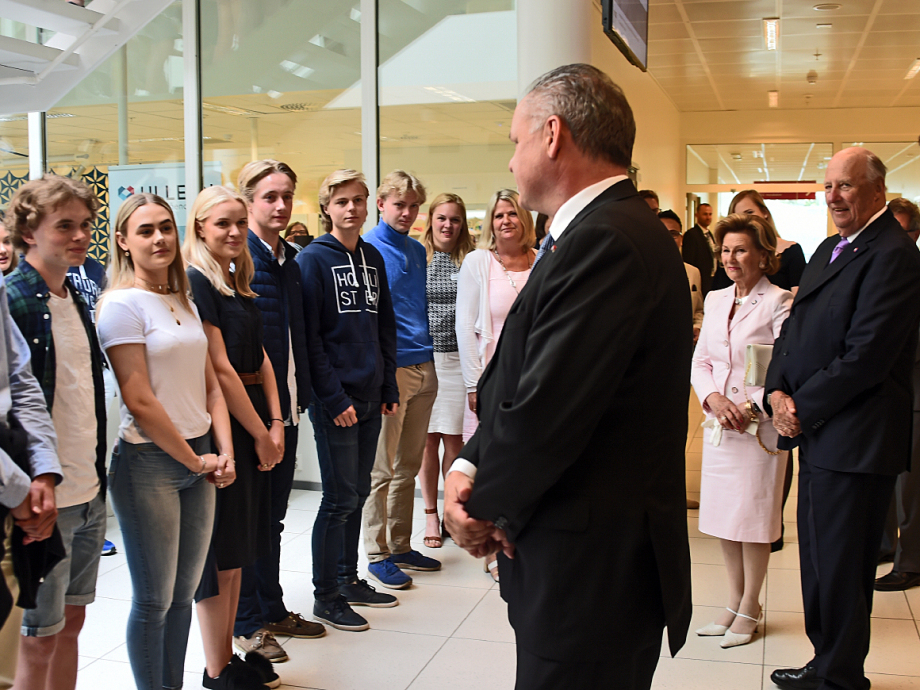 The King and Queen and President Kiska greeted rector Torill Røeggen and some of her pupils. Photo: Sven Gj. Gjeruldsen, The Royal Court.
Official luncheon 
The Norwegian Government held a luncheon in honour of the Slovakian President today. Minister of Culture Trine Skei Grande hosted the event, and both the King and Queen were in attendance.


Tomorrow, the Crown Prince will accompany the President to Bergen, where the State Visit will be concluded.
Facts
About the Slovak Republic
Capital: Bratislava
Largest cities: Bratislava, Košice and Prešov
Total area: 49 035 km² (Norway: 385 203 km²)
Population (2018): approximately 5,4 millioner
Official language: Slovak
Form of government: Republic 
Head of state (2018): President Andrej Kiska
Diplomatic ties were established between Norway and Slovakia on 1 January 1993, when Slovakia became an independent state after the dissolution of the former Czechoslovakia. The Norwegian Embassy was established in Bratislava in January 2005. King Harald, accompanied by Queen Sonja, paid a State Visit to Slovakia in October 2010.
Cultural and trade cooperation between Slovakia and Norway is on the rise, due in part to Norway's support to Slovakia via EEA and Norway Grants. Roughly 20 Norwegian companies have been established in Slovakia. Some 600 Norwegians are studying in the country, and most of these are studying medicine.

Kilde: UD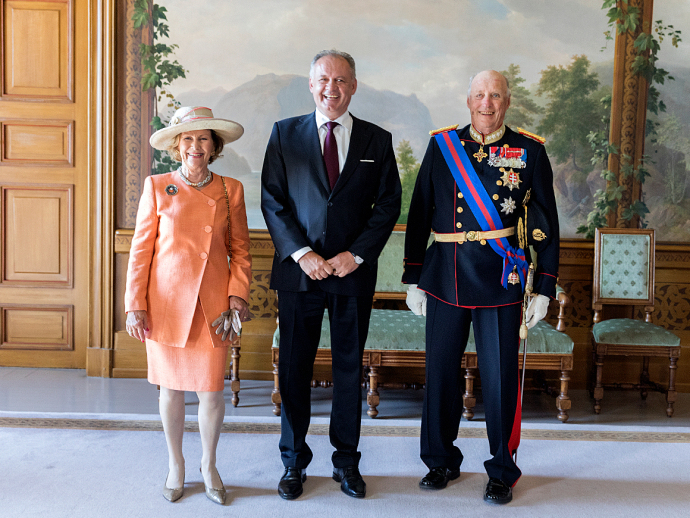 Official photographs from the Bird Room: The King and Queen with President Andrej Kiska. Photo: Gorm Kallestad / NTB scanpix.