Concluded in Bergen
Today, His Excellency President Andrej Kiska of Slovakia concluded his State Visit to Norway. His Royal Highness Crown Prince Haakon accompanied the President for the final day of his visit, which took place in Bergen.
06.06.2018
The President and the Crown Prince had two destinations on their programme today: Media City Bergen and the Bjerknes Centre for Climate Research.
Media City
Media City is a unique collaboration between academia, innovative technology industry, national broadcasters and regional media outlets. The cluster encompasses more than 100 companies.
The University of Bergen is the academic partner in the cluster, with 240 students of journalism, film and TV production, and media and interaction design. The studies are specially targeted towards technology and innovation. 
Students and representatives of the university displayed some of the cluster's activities for Crown Prince Haakon and the Slovakian President, who also visited the TV 2 sports studio during their Media City visit.
President Kiska and Crown Prince Haakon visiting TV 2. Photo: Sven Gj. Gjeruldsen, The Royal Court
Presentation on climate change
At the Bjerknes Centre for Climate Research, the President and the Crown Prince were shown how the use of modern technology makes it possible to research climate change from the past. New technological advances enable scientists to "read" climatic changes far back in time and shed light on climate change back when the Earth's climate was undergoing drastic shifts between ice ages and warm periods.

The study of layers in rocks from Borneo tells the researchers of climate change that took place several thousand years ago. Photo: Sven Gj. Gjeruldsen, The Royal Court.
Professor Asgeir Sorteberg used comparisons of the Winter Olympics in Oslo (1952) and in Lillehammer (1994), and the two World Ski Championships in Oslo (1982 vs 2011) to illustrate climate change. He also cited last year's World Cycling Championships in Bergen as an example of an extreme event with regard to both weather and results. Slovakian cyclist Peter Sagan won his third consecutive world title in Bergen.
Researcher Hanna Lee discussed planting trees to mitigate climate change. Trees take up CO2 from the atmosphere as they grow and thus can help to counteract carbon emissions. But the forests have a more complex effect on climate through their impact on the energy, water and carbon cycles. The combined effects of forestation may therefore be either beneficial or harmful to climate, depending on how such a planting strategy is implemented.
Farewell
After the tour of the Bjerknes Centre, Crown Prince Haakon bid farewell to President Kiska. The President concluded his State Visit with an official luncheon hosted by the mayor of Austevoll, while the Crown Prince continued on to the University of Bergen for the awards ceremony for the 2018 Holberg Prize at the University Aula.
Facts
About the Slovak Republic
Capital: Bratislava
Largest cities: Bratislava, Košice and Prešov
Total area: 49 035 km² (Norway: 385 203 km²)
Population (2018): approximately 5,4 millioner
Official language: Slovak
Form of government: Republic 
Head of state (2018): President Andrej Kiska
Diplomatic ties were established between Norway and Slovakia on 1 January 1993, when Slovakia became an independent state after the dissolution of the former Czechoslovakia. The Norwegian Embassy was established in Bratislava in January 2005. King Harald, accompanied by Queen Sonja, paid a State Visit to Slovakia in October 2010.
Cultural and trade cooperation between Slovakia and Norway is on the rise, due in part to Norway's support to Slovakia via EEA and Norway Grants. Roughly 20 Norwegian companies have been established in Slovakia. Some 600 Norwegians are studying in the country, and most of these are studying medicine.

Kilde: UD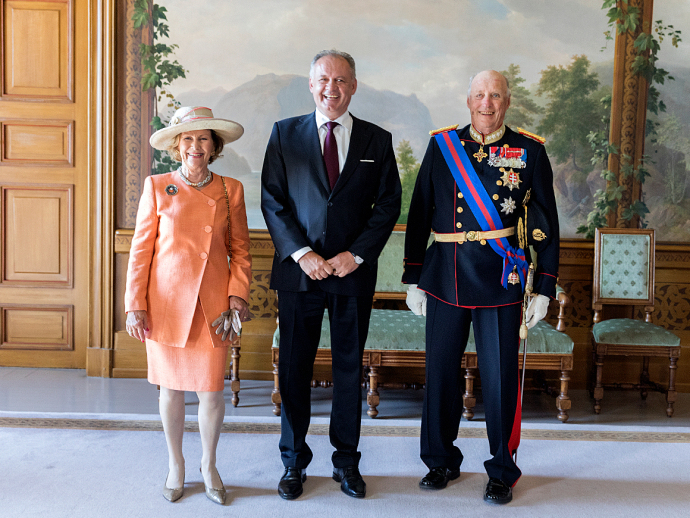 Official photographs from the Bird Room: The King and Queen with President Andrej Kiska. Photo: Gorm Kallestad / NTB scanpix.