Crown Prince in New York
The 73rd Session of the UN General Assembly has been formally opened in New York, and Norway is taking part in important areas during the high-level week. His Royal Highness Crown Prince Haakon has a busy programme in the days to come.
24.09.2018
The 73rd Session of the UN General Assembly is underway, and the high-level week that kicks off the session is the most important week on the UN calendar. Many countries are represented at the highest level, and a large number of meetings, conferences and receptions are being held.
Crown Prince Haakon has a full agenda this week, with a special emphasis on sound management of the oceans, seas and marine resources and on the UN Sustainable Development Goals.  

UN focus on youth  

Norway is well represented in UN this week: Crown Prince Haakon en route to the UN headquarters with Prime Minister Erna Solberg, Minister of Foreign Affairs Ine Eriksen Søreide and Minister of International Development Nikolai Astrup. Photo: Pontus Höök / NTB scanpix
The world's population has never been so young, with 1.8 billion people between the ages of 10 and 24 years. UN Secretary-General António Guterres seeks to increase the focus on young people in UN efforts, and today he launched Youth 2030: The United Nations Youth Strategy. The strategy, developed under the direction of UN Youth Envoy Jayathma Wickramanayake, provides a framework that will enable all parts of the UN system to target their efforts to better meet young people's needs.
The strategy seeks to empower young people, and gives priority to their right to education and employment and the opportunity to fulfil their potential. At the same time, the strategy stresses the need to engage young people so they can contribute more meaningfully to the work of the United Nations, and to ensure that the organisation can benefit from their views, insights and ideas.
Crown Prince Haakon and Crown Princess Victoria of Sweden at the launch of the UN Youth Strategy. Photo: Pontus Höök / NTB scanpix.
Generation Unlimited
As a first step in the new youth strategy, the Generation Unlimited Partnership was launched today. It is a global partnership that aims to ensure that every young person is in education, learning, training or employment by 2030. Under the direction of UNICEF, the initiative brings together the private sector, governments, international and local organisations, and young people.
Working with the UNDP
Crown Prince Haakon is a Goodwill Ambassador for the UN Development Programme (UNDP), and since 2005 he has conducted a number of field trips on behalf of the organisation. His activities have focused particularly on the UN Sustainable Development Goals and the Millennium Development Goals which preceded them.
Together with Her Royal Highness Crown Princess Victoria of Sweden, Crown Prince Haakon met with UNDP leaders today.  

UNDP plays a key role in international development work, with activities in more than 170 countries. During his term as Goodwill Ambassador, Crown Prince Haakon has visited Liberia, East Timor, Tanzania, Zambia, Haiti, Nepal, Botswana, Mongolia, Burundi, Guatemala and Sierra Leone. The next field trip will be an issue later on today's agenda. 
From left: UNDP Administrator Achim Steiner, Crown Princess Victoria, Crown Prince Haakon and UNDP Director of Bureau for External Relations and Advocacy Ulrika Modeer. Photo: UNDP.
The ongoing reforms of the UN was one of the issues of today's meeting. Another area of focus was the UNDP's work on the oceans in keeping with Sustainable Development Goal 14. The Crown Prince also had the opportunity to greet some of the employees during a concluding tour of the UNDP offices.

Tonight Norwegian time the programme continues with meetings and receptions in New York.    
Facts
The 17 UN Sustainable Development Goals
End poverty in all its forms everywhere
End hunger, achieve food security and improved nutrition and promote sustainable agriculture
Ensure healthy lives and promote well-being for all at all ages
Ensure inclusive and equitable quality education and promote lifelong learning opportunities for all
Achieve gender equality and empower all women and girls
Ensure availability and sustainable management of water and sanitation for all
Ensure access to affordable, reliable, sustainable and modern energy for all
Promote sustained, inclusive and sustainable economic growth, full and productive employment and decent work for all
Build resilient infrastructure, promote inclusive and sustainable industrialization and foster innovation
Reduce inequality within and among countries
Make cities and human settlements inclusive, safe, resilient and sustainable
Ensure sustainable consumption and production pattern
Take urgent action to combat climate change and its impacts
Conserve and sustainably use the oceans, seas and marine resources for sustainable development
Protect, restore and promote sustainable use of terrestrial ecosystems, sustainably manage forests, combat desertification, and halt and reverse land degradation and halt biodiversity loss
Promote peaceful and inclusive societies for sustainable development, provide access to justice for all and build effective, accountable and inclusive institutions at all levels
Strengthen the means of implementation and revitalize the global partnership for sustainable development

Source: the UN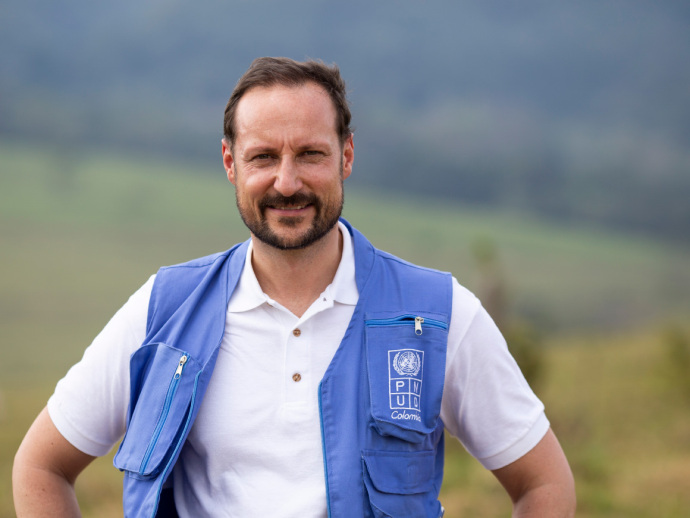 Crown Prince Haakon in Mesetas. Photo: FN-sambandet / Eivind Oskarson.