Better equipped to fight climate change
On Wednesday His Royal Highness The Crown Prince travelled to the region of La Mojana in southeast Colombia. The area has been severely affected by climate change, but a local pilot project has shown excellent results.
14.02.2019
Colombia's geographical location makes it one of the world's most vulnerable countries to climate change. In recent years, extreme weather events in the form of floods and prolonged drought have struck with increasing frequency. The United Nations Development Programme (UNDP) cooperates with Colombian authorities to better prepare local communities to withstand the effects of climate change.
On Wednesday Crown Prince Haakon travelled with Ricardo Lozano, Minister of Environment and Sustainable Development, to the La Mojana region in southeast Colombia. The people of this area live in extreme poverty, subsisting mainly through combined agriculture and fishing. Climate change and significant variations in weather conditions pose a major threat to food security, food production and the quality of life in La Mojana.
Crown Prince Haakon in El Torno. Photo: FN-sambandet / Eivind Oskarson.
The visit gave Crown Prince Haakon the opportunity to meet families who have experienced the serious consequences of extreme weather events – as well as helped to implement measures to make themselves less vulnerable in the future.
More resilient
local communities
The village of El Torno is one of four communities taking part in a pilot project to strengthen the ability of local residents to cope with the effects of drought and flooding. The results have been impressive – and the project is being scaled up to encompass another 400 villages. The visit from Crown Prince Haakon and Minister of Environment and Sustainable Development Lozano marked the launch of the scale-up project.
Minister of Environment and Sustainable Development Ricardo Lozano, who visited El Torno with the Crown Prince, also served as Latin America's head negotiator at the climate summit in Paris. Photo: FN-sambandet / Eivind Oskarson.
UNDP, Colombian authorities and the international Green Climate Fund are have co-organised the project, which consists of three key elements:
Strengthening water management. This involves developing solutions for irrigation and systems to collect and store rainwater.
Creating livelihoods resilient to climate change. This involves cultivating a variety of crops, using crops that are more resistant to moisture or drought, and creating more sources of income. 
Early warning systems. An advanced system has been set up to monitor changes in waterways. Data from rivers and streams are used to develop models and projections. For villages such as El Torno this means receiving early warnings of dangerous weather by mobile telephone and short-wave radio. 

Local communities contribute valuable knowledge and experience in shaping these measures. Developing sustainable agriculture goes hand in hand with the battle against climate change. The expansion of this project will allow more than 400 000 people to benefit from the same approach.
Products of Peace for lunch
During his El Torno visit, Crown Prince Haakon tasted the fruits of the "Products of Peace" campaign, a UNDP initiative that puts small-scale producers in contact with entrepreneurs who value local diversity and traditions. Goods from local farmers in vulnerable areas find their way to chefs and restaurants all over Colombia.
Some 150 families live in El Torno, a pilot village for a project to make them more resilient to the effects of climate change. Photo: FN-sambandet / Eivind Oskarson.
Concert against deforestation
The evening before the trip to La Mojana was also dedicated to the environmental front. The Crown Prince was in attendance at a large concert organised by the National Alliance against Deforestation. The concert was held in the main hall of Semana, one of Colombia's leading news magazines, and was broadcast widely to raise awareness about deforestation and the need for a sustainable future.
Totó La Momposina, known for her powerful voice and charisma, is an ambassador for the alliance. Photo: FN-sambandet / Eivind Oskarson.
A number of famous Colombian musicians support the alliance as goodwill ambassadors. On this evening they played acoustic versions of their most popular songs, delighting the young crowd of environmentalists attending the event as well as the anticipated hundreds of thousands of online viewers.
The members of the Systema Solar dance music collective are goodwill ambassadors of the alliance and are now touring Colombia to spread awareness about deforestation. Photo: FN-sambandet / Eivind Oskarson.
More than 70 leading public agencies and organisations in Colombia support the movement, and this evening UNDP also joined the alliance. UNDP is a leading partner in Colombia's efforts to stop deforestation, and Crown Prince Haakon took the stage to speak about these efforts. He stressed the way UNDP works in and with local communities in particular. It is vital that local communities embrace their role as guardians of the forest, while creating a framework to support sustainable livelihoods.
Facts
The 17 UN Sustainable Development Goals
End poverty in all its forms everywhere
End hunger, achieve food security and improved nutrition and promote sustainable agriculture
Ensure healthy lives and promote well-being for all at all ages
Ensure inclusive and equitable quality education and promote lifelong learning opportunities for all
Achieve gender equality and empower all women and girls
Ensure availability and sustainable management of water and sanitation for all
Ensure access to affordable, reliable, sustainable and modern energy for all
Promote sustained, inclusive and sustainable economic growth, full and productive employment and decent work for all
Build resilient infrastructure, promote inclusive and sustainable industrialization and foster innovation
Reduce inequality within and among countries
Make cities and human settlements inclusive, safe, resilient and sustainable
Ensure sustainable consumption and production pattern
Take urgent action to combat climate change and its impacts
Conserve and sustainably use the oceans, seas and marine resources for sustainable development
Protect, restore and promote sustainable use of terrestrial ecosystems, sustainably manage forests, combat desertification, and halt and reverse land degradation and halt biodiversity loss
Promote peaceful and inclusive societies for sustainable development, provide access to justice for all and build effective, accountable and inclusive institutions at all levels
Strengthen the means of implementation and revitalize the global partnership for sustainable development

Source: the UN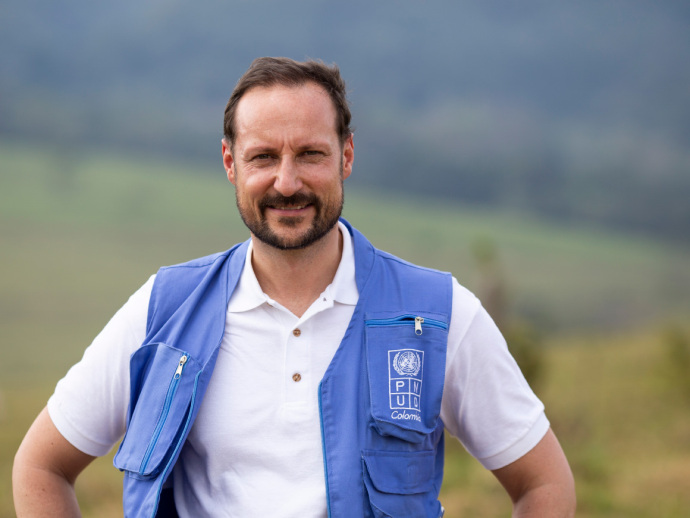 Crown Prince Haakon in Mesetas. Photo: FN-sambandet / Eivind Oskarson.