Ecotourism instead of deforestation
His Royal Highness The Crown Prince is in Colombia on behalf of the United Nations Development Programme (UNDP). On Thursday he visited a project that combines reincorporation of former guerrillas with development and environmental protection activities.
15.02.2019
The effort to promote peace and reconciliation in Colombia following 50 years of conflict is multi-faceted. Pivotal themes include justice for victims, sustainable development and combatting poverty. Another key focus is reincorporating the FARC ex-combatants into society.
On Thursday, Crown Prince Haakon visited a project that manages to combine several of these aspects.
The Crown Prince travelled to Mesetas to visit an effort that is reintegrating former FARC combatants through local projects. Photo: FN-sambandet / Eivind Oskarson.
Environments for Peace
The Environments for peace project combines reincorporation of ex-guerrilla soldiers with activities to promote sustainable development, fight deforestation and build resilient local communities.
Increased deforestation was an unintended consequence of the peace accord signed in 2016. Areas previously controlled by FARC guerrillas were taken over by companies that conducted illegal mining and coca cultivation for cocaine production, unlawful activities that also led to overexploitation of the forests.
Environments for peace provides an alternative. New, sustainable activities are built up locally in projects that include women, young people and former guerrilla soldiers. This is peace-building at a grassroots level, and Crown Prince Haakon lauded the project's participants:
"This project and the work you are doing as Colombians – cooperating across former lines of conflict – are an inspiration to the whole world."
"Conservation of nature is not typically a key issue in the wake of an armed conflict. But peace offers a great opportunity to utilise the resources of these forests in sustainable ways. Tourists can now experience Colombia in a new light and travel to places that once lay beyond reach." 
Hidden paradises
Colombia is one of the world's most biodiverse countries. Over 9 000 plant and animal species are found only here and nowhere else. Some 300 different ecosystem types are represented and 15 % of the world's oxygen is produced in the Colombian Amazon. 
Ecotourism
The peace accord ushered in completely new opportunities to benefit from this incredible biodiversity and the many areas of natural beauty. Instead of basing economic activity on resource extraction, conservation and sustainability have been given centre stage in an entirely new livelihood: ecotourism. Areas that were previously inaccessible due to the conflict are now opening up for tourism. The trend is clear: in 2016 some 96 000 people visited Colombia's national parks; in 2017 that figure exceeded 1.6 million.
The Crown Prince inaugurated the Caño Rojo Trail – a new addition to the growing ecotourism programme. Photo: FN-sambandet / Eivind Oskarson.
Crown Prince Haakon opened a new addition to the expanding tourism industry during his visit to Mesetas: the Caño Rojo Trail. This path through the rainforest to a waterfall makes biodiversity and protection of the forest part of the livelihood of the Mesetas residents.
Ecotourism entails new ways of earning a living while helping to preserve fragile ecosystems. Photo: FN-sambandet / Eivind Oskarson.
Environments for peace is financed with Norwegian funding and is being implemented by the Colombian Ministry of Environment and Sustainable Development, UNDP, the Norwegian Refugee Council and the FARC, in close cooperation with local residents.
Fra 12. til 14. februar 2019 besøkte Kronprins Haakon Colombia på vegne av UNDP. Reintegrering av tidligere FARC-soldater er en viktig del av det pågående fredsarbeidet. Foto: FN-sambandet / Eivind Oskarson
Facts
The 17 UN Sustainable Development Goals
End poverty in all its forms everywhere
End hunger, achieve food security and improved nutrition and promote sustainable agriculture
Ensure healthy lives and promote well-being for all at all ages
Ensure inclusive and equitable quality education and promote lifelong learning opportunities for all
Achieve gender equality and empower all women and girls
Ensure availability and sustainable management of water and sanitation for all
Ensure access to affordable, reliable, sustainable and modern energy for all
Promote sustained, inclusive and sustainable economic growth, full and productive employment and decent work for all
Build resilient infrastructure, promote inclusive and sustainable industrialization and foster innovation
Reduce inequality within and among countries
Make cities and human settlements inclusive, safe, resilient and sustainable
Ensure sustainable consumption and production pattern
Take urgent action to combat climate change and its impacts
Conserve and sustainably use the oceans, seas and marine resources for sustainable development
Protect, restore and promote sustainable use of terrestrial ecosystems, sustainably manage forests, combat desertification, and halt and reverse land degradation and halt biodiversity loss
Promote peaceful and inclusive societies for sustainable development, provide access to justice for all and build effective, accountable and inclusive institutions at all levels
Strengthen the means of implementation and revitalize the global partnership for sustainable development

Source: the UN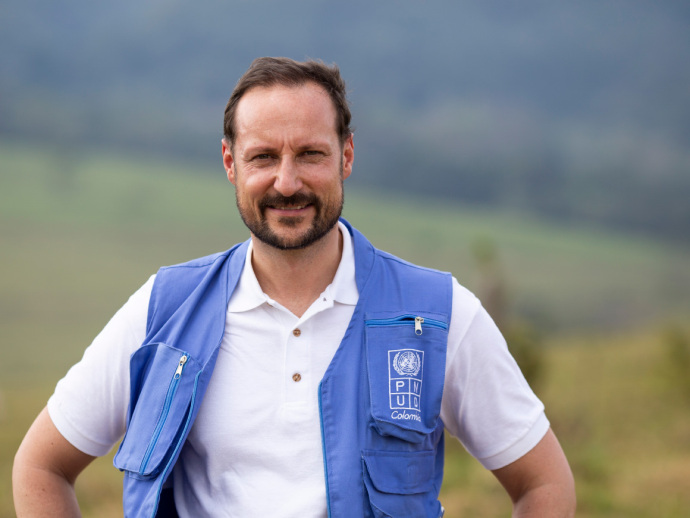 Crown Prince Haakon in Mesetas. Photo: FN-sambandet / Eivind Oskarson.