The King and Queen in Santiago
The State Visit to Chile of King Harald and Queen Sonja continued today, with a programme that included both business and culture. The return of material that Thor Heyerdahl had taken with him from Easter Island was a major part of the day's activities.
28.03.2019
In 1955 the explorer Thor Heyerdahl, already known from his Kon-Tiki and Galapagos Islands expeditions, embarked on a new journey. This time his destination was the Chilean island of Rapa Nui, or Easter Island. The island is known for its enormous stone statues called moai. There are about 900 hundred of them, mostly along the coast. Excavations led by Heyerdahl revealed, among other things, that the statues were not only of heads, as had been believed. They also had bodies – deep under the ground.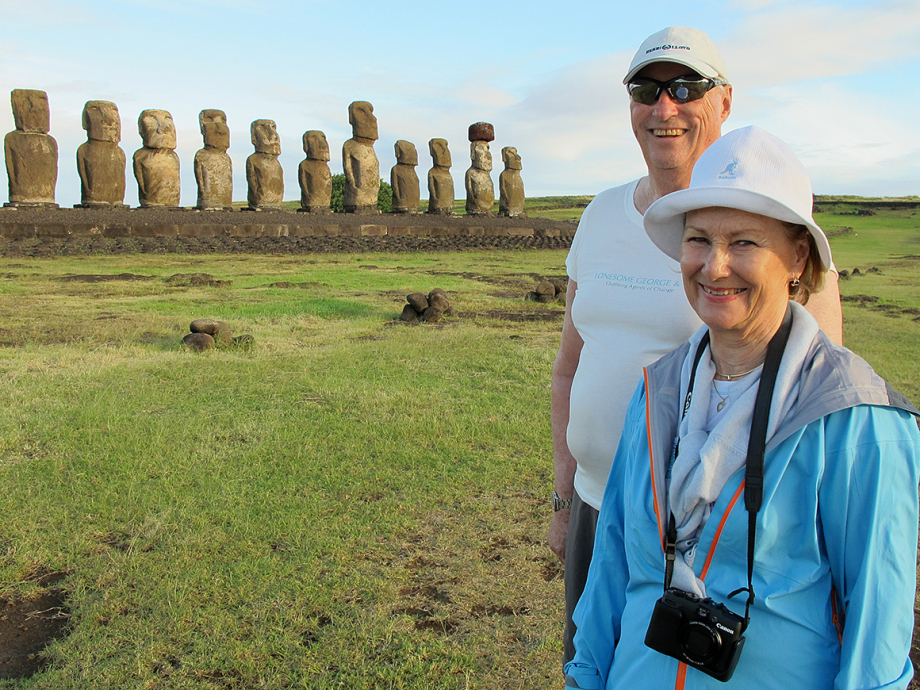 The King and Queen visited Easter Island in 2014. Photo: The Royal Court.
In an understanding with the Chilean authorities, Thor Heyerdahl brought many objects and remains back to Norway and the Kon-Tiki Museum for further examination. The agreement was to return the material when the studies were complete, and the museum has now taken the initiative to return the items to Chile. 
The agreement to initiate return of the items was signed during an event at the National Library in Santiago today. Objects and remains are to return to Easter Island, where they will be exhibited at the museum MAPSE. The explorer's son, Thor Heyerdahl Jr, signed the agreement on behalf of the Kon-Tiki Museum.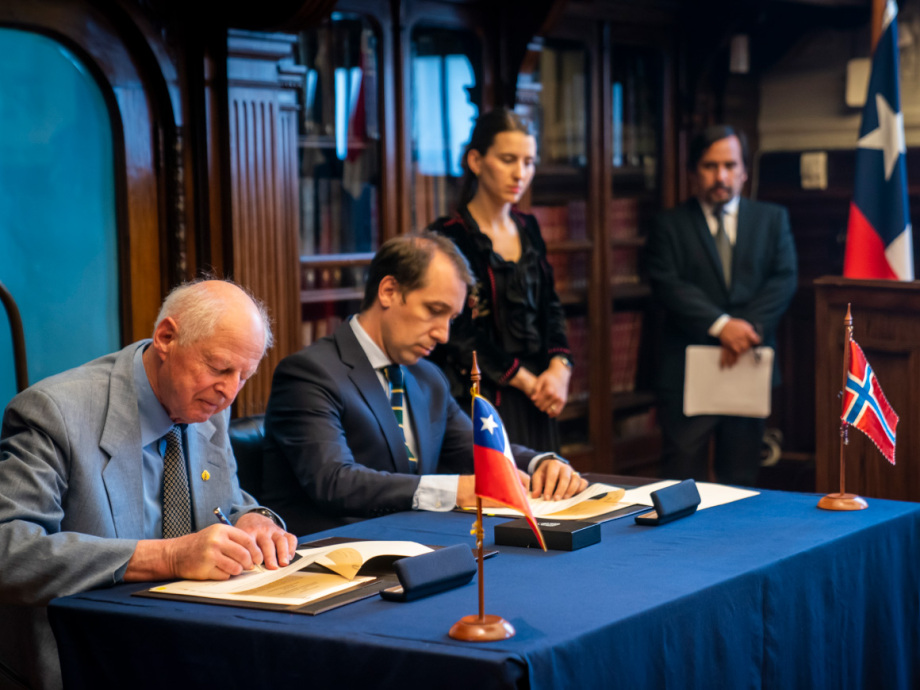 Thor Heyerdahl jr. and Chile's Director General for Cultural Heritage Carlos Maillet sign the agreement. Photo: Heiko Junge / NTB scanpix
Along with the archaeological material, a gift was presented: a digital edition of Thor Heyerdahl's unique collection of photographs taken on Easter Island in 1955-56 for use by the MAPSE. A selection of the pictures was displayed for the occasion, and the King and Queen viewed them together with Heyerdahl Jr.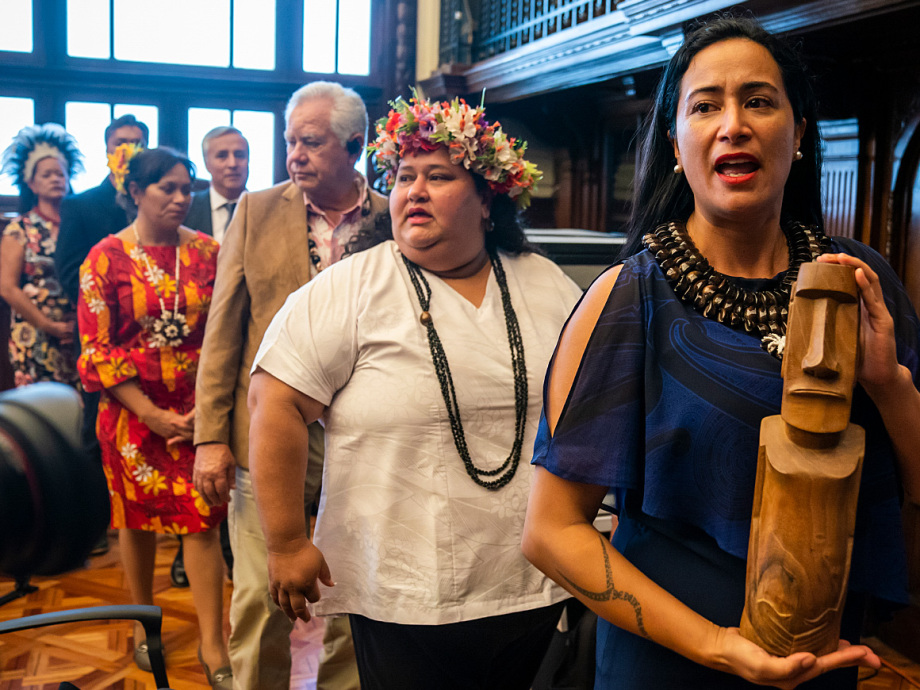 Tarita Alarcon Rapu, Governor of Easter island, sings during the ceremony. Photo: Heiko Junge / NTB scanpix
The King met Thor Heyerdahl on several occasions, and has described him as a wonderful storyteller. "Sitting at a table with Mr Heyerdahl was like setting out on an adventure," King Harald said in an interview after visiting Easter Island with the Queen in the spring of 2014. "He may not always have been right, but he made people think. He approached problems from a completely different angle from everyone else."  
A quote from Thor Heyerdahl himself illustrates this point: "Borders? I have never seen one. But I have heard they exist in the minds of some people."
"Borders? I have never seen one. But I have heard they exist in the minds of some people". Thor Heyerdahl.
Easter Island has been on UNESCO's list of World Heritage Sites of cultural and natural significance since 1995.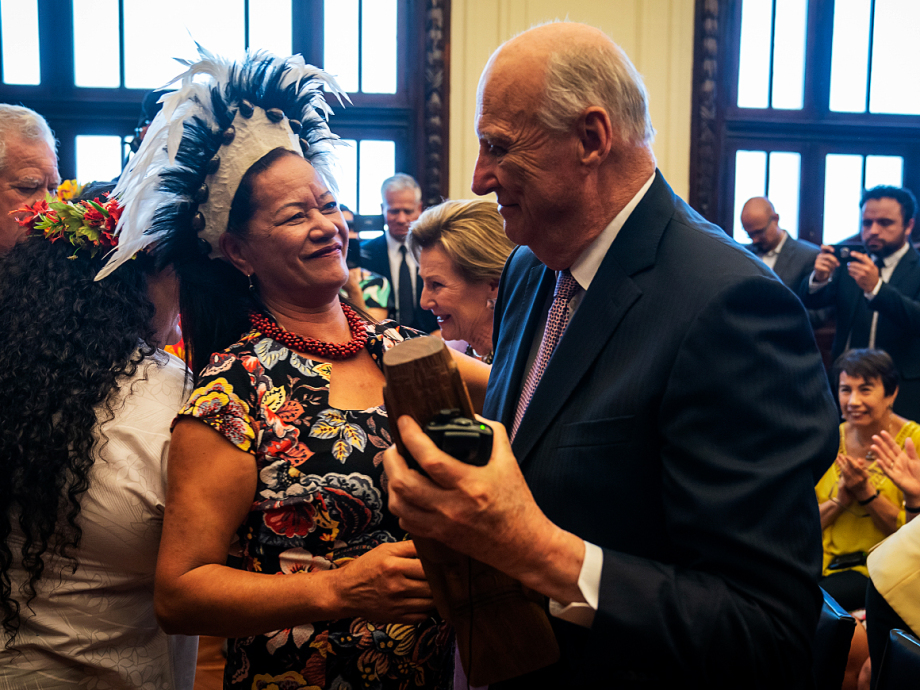 King Harald with Rubelinda Pakarati from Easter Island. Photo: Heiko Junge / NTB scanpix
But Their Majesties' began the day with the opening of a seminar for Norwegian and Chilean business leaders.
Together for sustainable solutions
Chile is the second most important market for Norwegian companies in South America, particularly within fisheries and aquaculture. The country is politically and economically stable and provides good framework conditions for business activities. More and more Norwegian companies are showing an interest in Chile, and a business delegation of some 80 people is accompanying the King and Queen during the State Visit.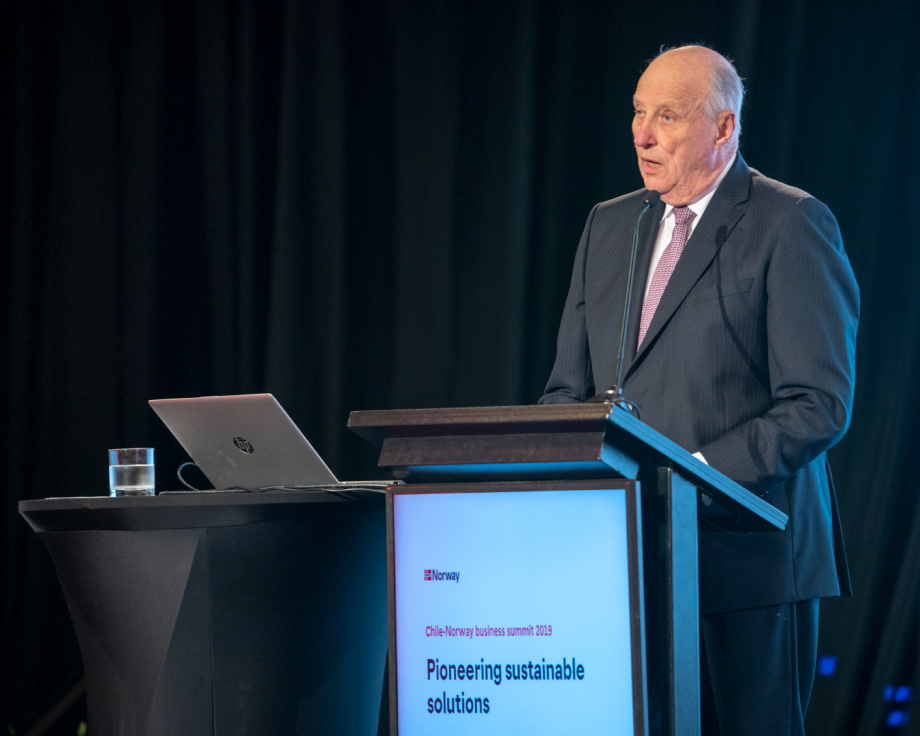 King Harald opened the business seminar in Santiago. Photo: Heiko Junge / NTB scanpix
Sustainable development of business and industry is a major concern of both Norwegian and Chilean authorities. Today's seminar focused on sustainable solutions to common challenges.
King Harald pointed to the importance of cooperation in finding good solutions. What can Norway learn from Chile and Chile from Norway? It is also important to view demands for green solutions as a positive impetus, the King said, adding that he was confident the transition to a green economy will lead to better health, a cleaner environment and a stronger economy.
"Some may still view increasing green requirements as a challenge. Norway and Chile should not. Green requirements spur us to find innovative solutions, and give rise to exciting opportunities for creative and forward-looking men and women. I am confident that the transition to a green economy will give us better health, a cleaner environment and a stronger economy."
The Chilean Minister of Finance, Felipe Larraín Bascuñán, as well as Norway's Minister of Foreign Affairs Ine Eriksen Søreide and Minister of Fisheries Harald Nesvik all delivered remarks after the King. The seminar addressed subjects related to maritime industries as well as renewable energy, smart cities and innovative agriculture. Norwegian and Chilean companies had the opportunity to exchange ideas and experience and to establish contacts for further cooperation.
Keys to the city
In the afternoon the King and Queen had the pleasure of being appointed honorary citizens of Santiago. Mayor Felipe Alessandri presented the King and Queen with the keys to the city as a token of the honour.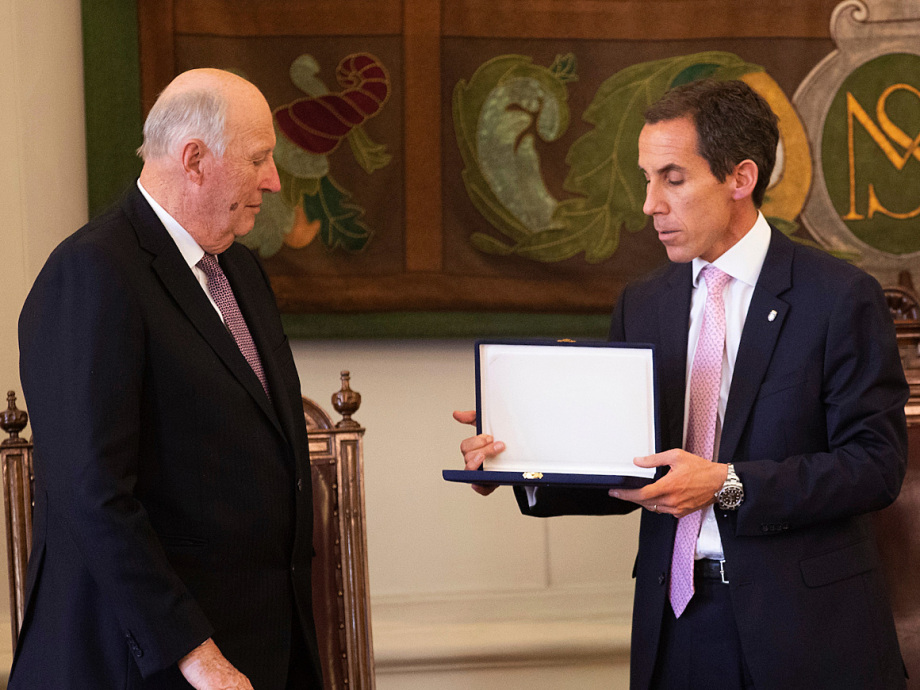 Mayor Felipe Alessandri presents the King with the keys to the city. Photo: Tom Hansen, Hansenfoto.no
Roughly half a million people live in central Santiago, and much has been invested in recent years to make the core of the city clean and safe. Green areas have been expanded and renovated, and 100 electric buses are helping to promote the transition from coal to clean energy. Another 100 will soon be in the streets.
Many people from Santiago's Norwegian community were present during the key presentation ceremony, and King Harald and Queen Sonja had a chance to greet several of them during a small reception afterwards.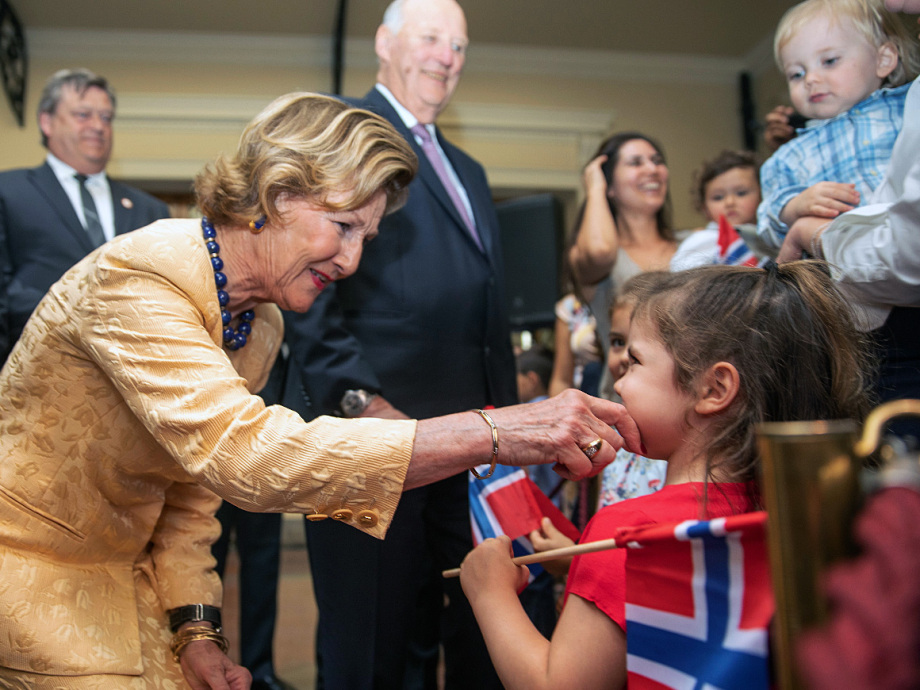 King Harald and Queen Sonja had a chance to meet members of Santiago's Norwegian community during a small reception after the ceremony. Photo: Tom Hansen, Hansenfoto.no
Friendship dinner
Late tonight Norwegian time, King Harald and Queen Sonja will be hosting a large dinner for Norwegian and Chilean guests. The Queen will give the welcome speech, and there will be entertainment and food from both countries.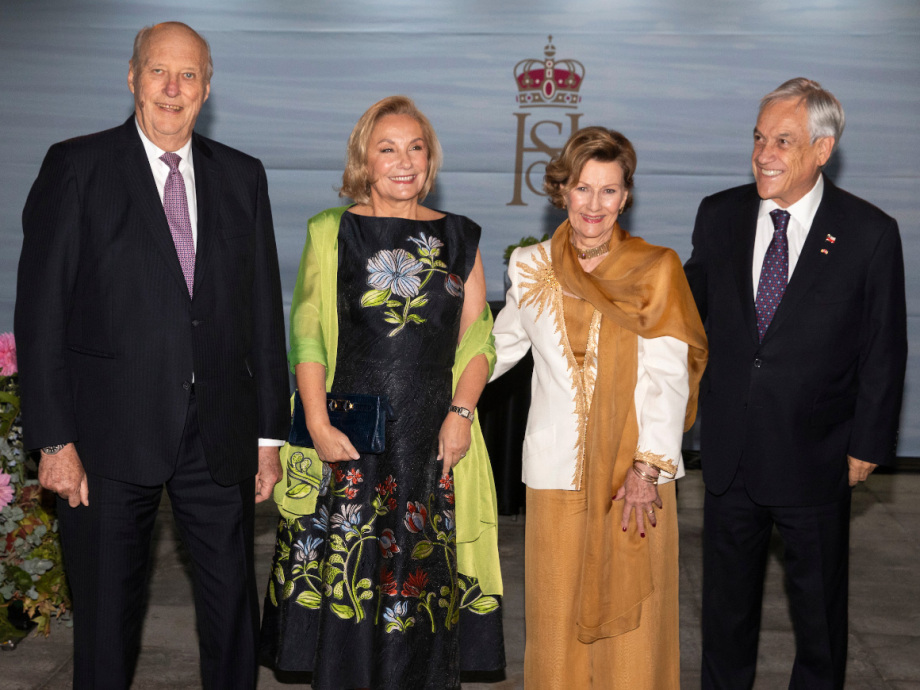 The King and Queen hosted a friendship dinner and President Sebastián Piñera and First Lady Cecilia Morel Montes were in attendance. Photo: Tom Hansen, Hansenfoto.no
Tomorrow the King and Queen leave Santiago and travel south to Punta Arenas, which is a port city in Chile's far south and the southernmost city in the world with more than 100,000 inhabitants. Located on the shores of the Strait of Magellan, the city was the key port for those wanting to sail between the Pacific and the Atlantic oceans before the Panama Canal opened in 1914.