State visit to Jordan
Today Their Majesties the King and Queen were welcomed to Jordan by Their Majesties King Abdullah II and Queen Rania. It is the first state visit to the Middle East for King Harald and Queen Sonja.
02.03.2020
His Royal Highness Crown Prince Hussein bin Abdullah also attended the welcoming ceremony, which took place outside Al Husseiniya Palace in Amman.
The visit marks 50 years of diplomatic relations between Norway and Jordan, as of 2019, and 25 years since Norway established its embassy in Amman. In addition, it has been 20 years since King Abdullah and Queen Rania paid a state visit to Norway.
Minister of Foreign Affairs Ine Eriksen Søreide and Minister of Trade and Industry Iselin Nybø are accompanying the King and Queen during the state visit.
King Harald and King Abdullah inspect the Guard of Honour outside Al Husseiniya Palace. Photo: Heiko Junge, NTB scanpix
At the end of the welcoming ceremony, King Abdullah, Queen Rania, King Harald and Queen Sonja moved into the palace for an official exchange of gifts and talks. King Harald was also in attendance during the discussions held later between the Norwegian and Jordanian delegations.
King Abdullah, Queen Rania, King Harald, Queen Sonja and Crown Prince Hussein meet for talks after the welcoming ceremony. Photo: Muhammad Hamed, Reuters / NTB scanpix
One topic of discussion was the extraordinary generosity Jordan has shown to refugees from Syria and other countries in the region. Jordan also has a large Palestinian population. To assist in these efforts, Norway provides humanitarian support to Jordan with a special focus on educational support to help the many refugee children to receive schooling.
Seafood on the table
Trade between Norway and Jordan has been relatively modest, but exports of Norwegian seafood have increased in volume in recent years and Norwegian producers see the Middle East as an important part of their effort to enter new markets. Minister of Trade and Industry Iselin Nybø hosted some 120 guests today at a seafood luncheon where representatives of Norwegian producers and exporters met Jordanian importers, grocery chain operators and hoteliers. 
Norwegian chef Sebastian Myhre was responsible for preparing the meal and also conducted a workshop on Norwegian raw ingredients for Jordanian culinary students on Sunday.
Business opportunities
This afternoon Queen Sonja spoke at the opening of a business and trade seminar exploring promising areas of cooperation between Jordan and Norway.
Queen Sonja gave a speech at the opening of the seminar. Photo: Tom Hansen, Hansenfoto.no
Companies linked to energy production and distribution are well represented in Norway's delegation. They met with representatives of Jordan, as the country is seeking to boost renewable energy investment and has especially good prospects for solar energy development. 
For another group of participants, the focus was cancer research. The Oslo Cancer Cluster and the King Hussein Cancer Foundation met to discuss collaboration on clinical studies and cancer treatment.
For tourists, Jordan offers a range of wonderful destinations, including the ancient city of Petra and other sites on UNESCO's World Heritage List. A number of Norwegian tour operators took part in today's event to discuss sustainable tourism.
Both Queen Sonja and Queen Rania stress the importance of women's rights and participation in society. Photo: Heiko Junge, NTB scanpix
Women in working life 
A separate, secondary seminar took a closer look at greater freedom and participation in the workforce for women – a subject close to Queen Sonja's heart. She noted that the participation of women as well as men in the workplace has been crucial to economic growth and development of the Norwegian welfare state: "Women's participation in working life has had a greater impact on Norway's economy than our oil and gas revenues — together." 
"Women's participation in working life has had a greater impact on Norway's economy than our oil and gas revenues — together." 
Jordan has implemented major reforms in recent years to increase women's participation, encourage salary equality and combat discrimination. 
"Norway supports these initiatives," said the Queen, expressing the hope that Norway can inspire additional efforts by sharing its own experience in the area. 
"Gender equality is not only a human right. It is also smart economics! Talents are distributed equally among men and women. Therefore, opportunities should be equal, too.
Jordanian women are highly educated but often stay home after marrying. The authorities in Jordan seek to increase the level of participation by women in economic life.
Banquet
This evening, King Harald and Queen Sonja are the guests of the Jordanian King and Queen at an official banquet in Amman. 
This evening King Abdullah and Queen Rania are hosting a banquet in honour of the state visit. Photo: Tom Hansen, Hansenfoto.no
The state visit will continue tomorrow, with integration and interreligious dialogue as important areas of focus.
Facts
Facts about the Hashemite Kingdom of Jordan
Capital: Amman
Largest cities: Amman and Zarqa
Form of government: Constitutional monarchy
Head of state 2020: King Abdullah II
Independent state since 1946
Area: 89 329 km² (Norway: 385 203 km²)
Population: about 10.8 million (2020)
Official language: Arabic
Neighbouring countries: Syria, Iraq, Saudi Arabia, Israel, the Palestinian territories
Diplomatic relations between Norway and Jordan were established in 1969, and Norway opened its embassy in Amman in 1994. Jordan established an embassy in Oslo in 2017.
Norway and Jordan enjoy excellent relations. King Abdullah and Queen Rania carried out a state visit to Norway in 2000, and King Abdullah also visited Norway in 2010. 
Business and trade have been limited, but opportunities are now being considered for cooperation in various areas, including renewable energy and tourism.

Source: Ministry of Foreign Affairs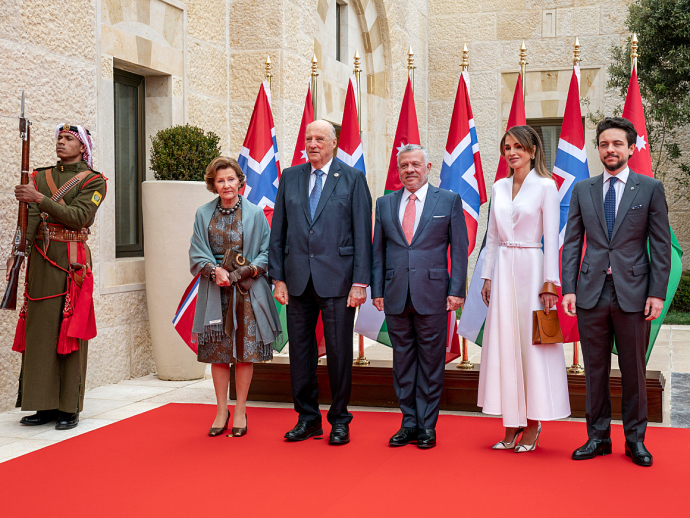 Welcoming ceremony in Amman. The King and Queen are welcomed by King Abdullah, Queen Rania and Crown Prince Hussein. Photo: Heiko Junge, NTB scanpix