State visit concludes in ancient city of Petra
Surrounded by sandstone cliffs, halfway between the Red Sea and the Dead Sea, lies the ancient city of Petra. Their Majesties The King and Queen concluded their state visit to Jordan at one of the world's "new" seven wonders.
04.03.2020
Several sites in Jordan are listed on UNESCO's World Heritage List, but Petra is the most well-known. UNESCO describes it as "one of the most precious cultural properties in man's cultural heritage."
Petra is accessed through a cleft in the mountains 1.2 km in length and only three or four metres wide at its narrowest.
The entrance to Petra is through a deep, narrow gorge. Photo: Heiko Junge, NTB scanpix
The cleft leads to Al-Khazneh, "the Treasury", a 40-metre high façade with columns hewn into the sandstone more than 2 000 years ago. Al-Khazneh is the first glimpse of the ancient city beyond. 
Petra extends across a large area and not all its secrets have been revealed. In 2016, archaeologists discovered a large, previously unknown structure under the sand. 
Petra is also called "The Rose City" due to the colour of the stone into which it is carved. Photo: Heiko Junge, NTB scanpix
Old trading city
Petra's roots date back 9 000 years, but the city's golden age was from about 300 BCE to 200 CE. In that period the Nabataeans – Arab Bedouins who established Petra as a trading centre – had their capital here. In 106 CE Petra became part of the Roman Empire and the kingdom of the Nabataeans became the Roman province of Arabia Petraea. 
Access to water was important to the desert city's success. The area is subject to flash flooding, and archaeologists have ascertained that the Nabataeans used dams, cisterns and pipes to conserve the water, allowing Petra to endure long periods of drought.
The city's decline began when trade began to go more by sea than the old desert caravan routes. In the 363 CE, an earthquake destroyed much of Petra and its crucial water system, and the inhabitants eventually abandoned the city.
Photo: Heiko Junge, NTB scanpix
The Swiss explorer Johann Burckhardt is credited with "rediscovering" the city in 1812.
Extensive tourism
Most of the Seven Wonders of the Ancient World no longer exist. But when a list of the world's "new" seven wonders was announced in 2007, Petra was on it. The ranking resulted in a large visitor increase, with almost a million tourists now visiting Petra annually.
This tremendous influx presents an additional challenge for Petra, beyond its age, geologic erosion and other stressors. The Petra National Trust cooperates with many local and international organisations on projects that help to protect and preserve Petra.


The King and Queen concluded their state visit to Jordan in Petra, where they also met with Norwegian and Jordanian journalists at a final press conference.
Facts
Facts about the Hashemite Kingdom of Jordan
Capital: Amman
Largest cities: Amman and Zarqa
Form of government: Constitutional monarchy
Head of state 2020: King Abdullah II
Independent state since 1946
Area: 89 329 km² (Norway: 385 203 km²)
Population: about 10.8 million (2020)
Official language: Arabic
Neighbouring countries: Syria, Iraq, Saudi Arabia, Israel, the Palestinian territories
Diplomatic relations between Norway and Jordan were established in 1969, and Norway opened its embassy in Amman in 1994. Jordan established an embassy in Oslo in 2017.
Norway and Jordan enjoy excellent relations. King Abdullah and Queen Rania carried out a state visit to Norway in 2000, and King Abdullah also visited Norway in 2010. 
Business and trade have been limited, but opportunities are now being considered for cooperation in various areas, including renewable energy and tourism.

Source: Ministry of Foreign Affairs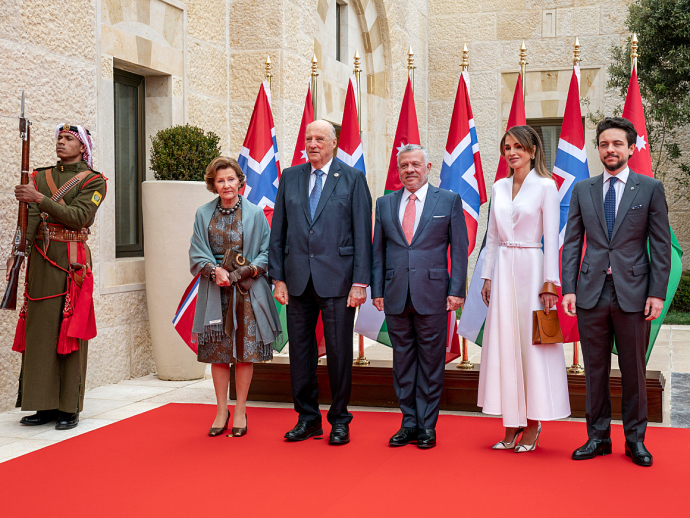 Welcoming ceremony in Amman. The King and Queen are welcomed by King Abdullah, Queen Rania and Crown Prince Hussein. Photo: Heiko Junge, NTB scanpix