Norwegian business activities in Silicon Savannah
More than 40 Norwegian companies have operations in Kenya. Today, His Royal Highness Crown Prince Haakon and Her Royal Highness Crown Princess Victoria of Sweden met with Norwegian, Swedish and Kenyan business representatives who see great potential for cooperation on green technology and sustainable solutions with the East African country.
24.11.2022
Crown Prince Haakon spoke today at a business seminar in Kenya's capital, Nairobi, which he attended with Crown Princess Victoria of Sweden and Norwegian and Swedish business delegations.
"Their presence illustrates the Norwegian and Scandinavian business community's growing interest in Kenya itself, and in Kenya as a hub for the East African region and beyond," the Crown Prince said.
Crown Prince Haakon followed Crown Princess Victoria as a speaker at the business seminar "Norway, Sweden, and Kenya: Pioneering Sustainable Solutions – Together". Photo: Lise Åserud / NTB
Investing widely in Kenya
Kenya is known as Silicon Savannah – the continent's technology hub.
The Crown Prince pointed out that in addition to the Norwegian companies operating in Kenya, the Norwegian Government Pension Fund Global (Norway's sovereign wealth fund) and Norfund (the Norwegian Investment Fund for developing countries) are present in the country. The sovereign wealth fund has invested nearly USD 500 million in Kenya since 2017. And Kenya is one of Norfund's most important investment markets globally.
Norwegian companies offer technology and solutions that can help Kenya and Norway to address many of the challenges shared by both countries, particularly in the areas of renewable energy, food security and agriculture.
However, Norway imports more from Kenya than it exports in return. When Crown Prince Haakon pointed out that Norwegians are among the world's biggest coffee drinkers, beaten only by the Finns, the audience broke into applause. Coffee is one of Kenya's most important exports to Norway.
"So, you can always try offering a Norwegian a cup of Kenyan coffee to help seal the deal," the Crown Prince remarked jokingly.
Read the Crown Prince's remarks to the business seminar
Crown Princess Victoria and Crown Prince Haakon had a busy programme focused on business cooperation on the last day of their visit to Kenya. Photo: Lise Åserud / NTB
After the seminar, Crown Prince Haakon met with the founders of Findmy, a Norwegian company that produces electronic tracking equipment for livestock, and representatives of the Mester Grønn chain of flower stores. Both companies are well established in the Kenyan market.
Innovation Norway and Business Sweden also have a presence in Kenya and are in the process of moving into new shared offices in Nairobi. Crown Prince Haakon and Crown Princess Victoria were given a tour of the new offices and met with some of the staff who will be working there.
The 7th floor of the One Africa Place building in Nairobi will house Innovation Norway and Business Sweden's shared office space. Crown Princess Victoria and Crown Prince Haakon formally opened the offices and met with the staff. Photo: Lise Åserud / NTB
Tree planting in the Karura Forest
Early in the morning, Crown Prince Haakon and Norwegian Minister of International Development, Anne Beathe Tvinnereim, planted trees in the Karura Forest, a green oasis in Nairobi that is popular for walks and activities. The forest was saved after a long campaign led by Wangari Maathai, who received the 2004 Nobel Peace Prize for her contribution to sustainable development, democracy and peace.
Wangari Maathai's daughter, Wanjira Mathai, welcomed the Crown Prince and Ms Tvinnereim to the Karura Forest and took part in the tree planting.
Norway and Kenya shared a commitment to mitigating climate change, protecting forests and safeguarding biological diversity. Sustainable forest management is a key focus of Sustainable Development Goal 15.
Crown Prince Haakon planted trees together with Norwegian and Kenyan schoolchildren. Photo: Lise Åserud / NTB
Food security and sustainable agriculture
Food security is a priority issue in Kenya and Europe alike. Drought poses a particular threat to food security in Kenya and other countries in the region.
During the afternoon, Crown Prince Haakon visited two farms located an hour's drive from the centre of Nairobi. The AusQuest Farm and the Kapiti experimental farm, which is part of the International Livestock Research Institute, are located in an area categorised as semi-arid, meaning rainfall is scarce enough that it either evaporates or is quickly absorbed by the sparse local vegetation.
Crown Prince Haakon and Minister of International Development Anne Beathe Tvinnereim in conversation with Stuart Barden at AusQuest Farm outside Nairobi. Photo: Lise Åserud / NTB
While at the farm, the Crown Prince met Findmy's Marit Mjøen Solem once again, as well as Svein Tore Holsether of Yara, the fertiliser and chemical company; Sigrid Skjelstad of Orkel, a manufacturer of agricultural machinery; and Trond Haugen of the farm equipment manufacturer Serigstad Agri. They all represent Norwegian companies with products and systems that deliver solutions to support sustainable food production and food security in Kenya.
Crown Prince Haakon meets local farmers at AusQuest Farm. Photo: Sven Gj. Gjeruldsen, The Royal Court
A meeting with the Deputy
President The Crown Prince's visit to the country highlights the close ties between Norway and Kenya. On the third and final day of the visit, Crown Prince Haakon and Crown Princess Victoria met with Kenyan Deputy President Rigathi Gachagua.
This was Crown Prince Haakon's first official visit to Kenya, and the final item on the programme was a reception for members of the Norwegian, Swedish and Kenyan business community.
Crown Princess Victoria and Crown Prince Haakon met with Kenyan Deputy President Rigathi Gachagua in Nairobi. Photo: Sven Gj. Gjeruldsen, The Royal Court
Facts
The 17 UN Sustainable Development Goals
End poverty in all its forms everywhere
End hunger, achieve food security and improved nutrition and promote sustainable agriculture
Ensure healthy lives and promote well-being for all at all ages
Ensure inclusive and equitable quality education and promote lifelong learning opportunities for all
Achieve gender equality and empower all women and girls
Ensure availability and sustainable management of water and sanitation for all
Ensure access to affordable, reliable, sustainable and modern energy for all
Promote sustained, inclusive and sustainable economic growth, full and productive employment and decent work for all
Build resilient infrastructure, promote inclusive and sustainable industrialization and foster innovation
Reduce inequality within and among countries
Make cities and human settlements inclusive, safe, resilient and sustainable
Ensure sustainable consumption and production pattern
Take urgent action to combat climate change and its impacts
Conserve and sustainably use the oceans, seas and marine resources for sustainable development
Protect, restore and promote sustainable use of terrestrial ecosystems, sustainably manage forests, combat desertification, and halt and reverse land degradation and halt biodiversity loss
Promote peaceful and inclusive societies for sustainable development, provide access to justice for all and build effective, accountable and inclusive institutions at all levels
Strengthen the means of implementation and revitalize the global partnership for sustainable development

Source: the UN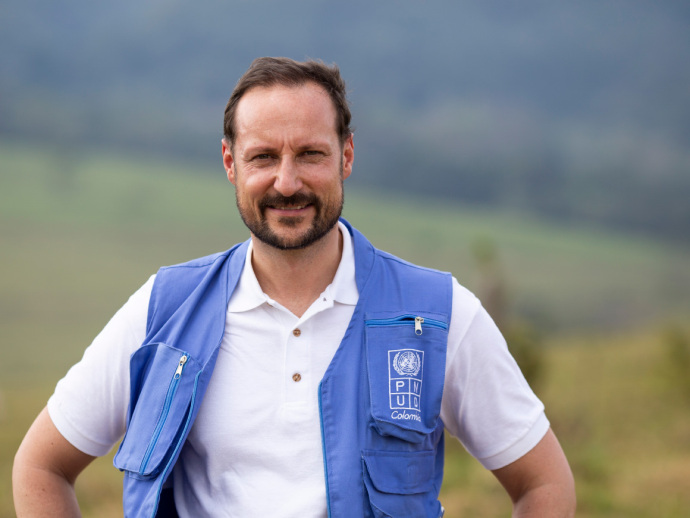 Crown Prince Haakon in Mesetas. Photo: FN-sambandet / Eivind Oskarson.