Guided tours of the Royal Palace
The Royal Palace in Oslo is open to the public during the summer. The 2019 season lasts from 22 June until 25 August. Tickets are available from 1 March every year.
All visitors must follow a guided tour. During the season, tours are given every twenty minutes.
A small taste of a guided tour at the Royal Palace. Photo: Christian Lagaard, the Royal Court.
 
In addition to a tour through some of the most beautiful state rooms in the Royal Palace, a new exhibition is mounted every year. 
Tickets and opening hours 
Please find detailed informations on tickets, prices and opening hours in the Facts sections at the right of the page (or at the bottom if you are using a mobile device).
Tickets are available through Ticketmaster.no or telephone no + 47 815 33 133.
Rooms on the tour
The guided tour takes visitors through some of the most important and lovely rooms, like the Cabinet Parlour, the Council Chamber and the most beautiful guest room in the Palace - the King Haakon VII Suite.
 
We visit the Bird Room where all those seeking an audience with His Majesty The King wait to be announced, as well as the Ballroom and the Banqueting Hall. During a gala dinner at the Royal Palace, more than 200 people will dine there.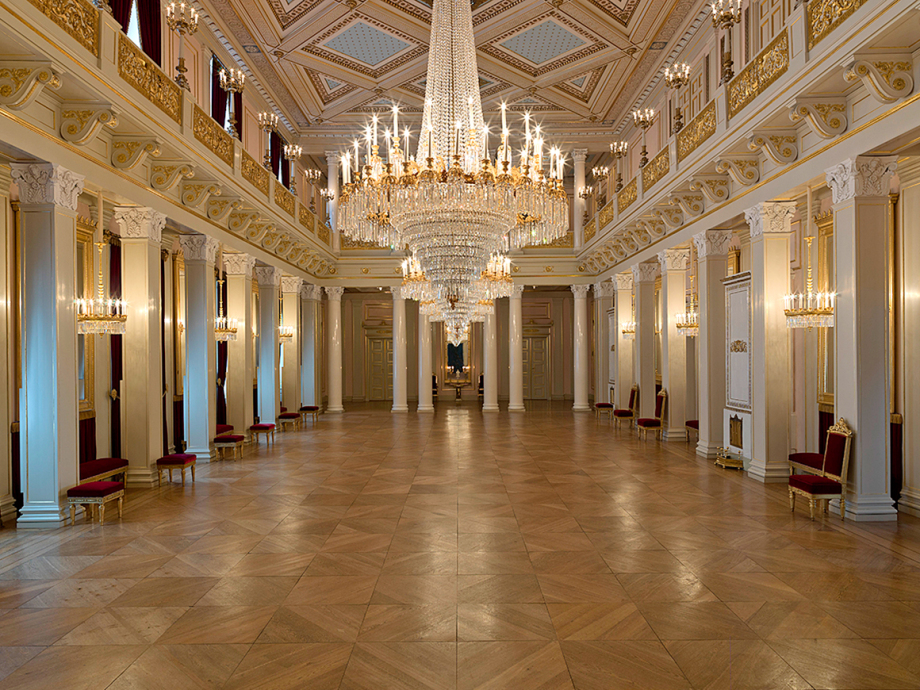 The Ballroom. Photo: Jan Haug, The Royal Court
More information
If in need of further information, please contact
Nina Høye (+47) 22 04 89 52 (e-mail: nina.hoie[at]slottet.no)